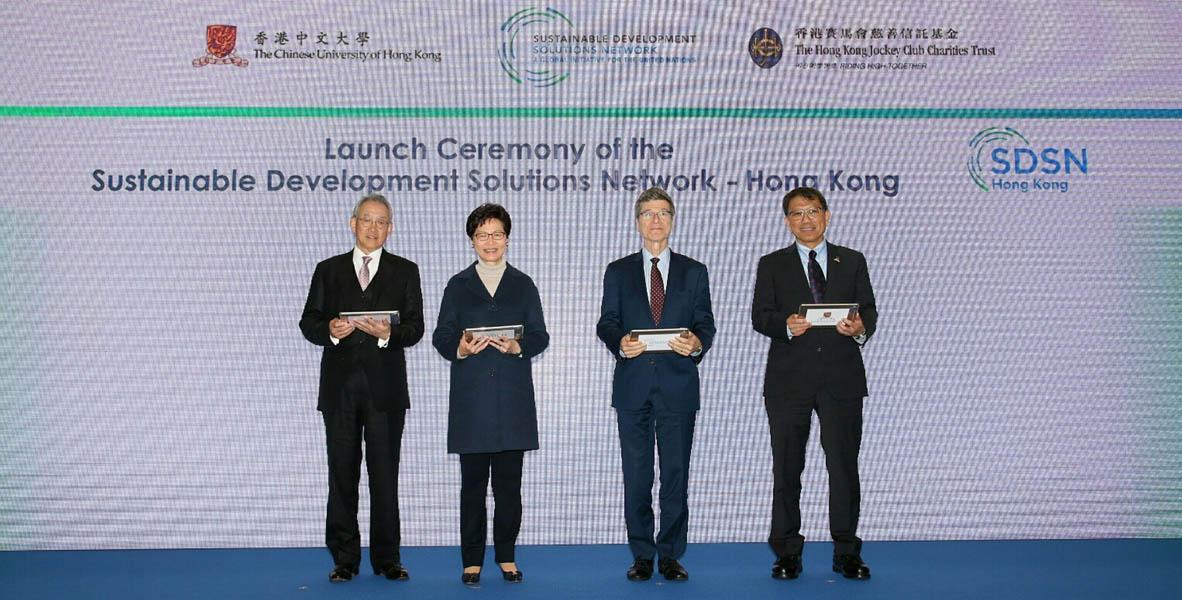 The Chinese University of Hong Kong (CUHK)  and the Hong Kong Jockey Club Charities Trust have joined hands to co-host the Hong Kong Chapter of the UN Sustainable Development Solutions Network (SDSN). Under the umbrella of the global SDSN, SDSN Hong Kong seeks to mobilize expertise, information and resources from academic, philanthropy, government, business and nonprofits to address the most pressing environmental, social and economic issues in Hong Kong and advance sustainable development. It will identify further means of collaboration on research and pursuing sustainability solutions with local and international researchers and leaders in sustainable development. 
A launch ceremony of SDSN Hong Kong was held at CUHK on 8 January 2018. Officiating guests included the Hon Mrs Carrie Lam Cheng Yuet-ngor, The Chief Executive of the Hong Kong Special Administrative Region; Prof. Jeffrey Sachs, Director of SDSN, United Nations; Mr. Anthony W.K. Chow, Deputy Chairman of the Hong Kong Jockey Club; and Prof. Rocky S. Tuan, Vice-Chancellor and President of CUHK.
Prof. Tuan remarked, 'The roles of universities in sustainable development are undisputed. We are the centres of knowledge generation and serve as knowledge repositories. Not only do we create and incubate new technologies, through research and development, most importantly we also educate and inspire future generations of leaders in sustainable development.'
For more information on the new initiative, please refer to the University's press release.