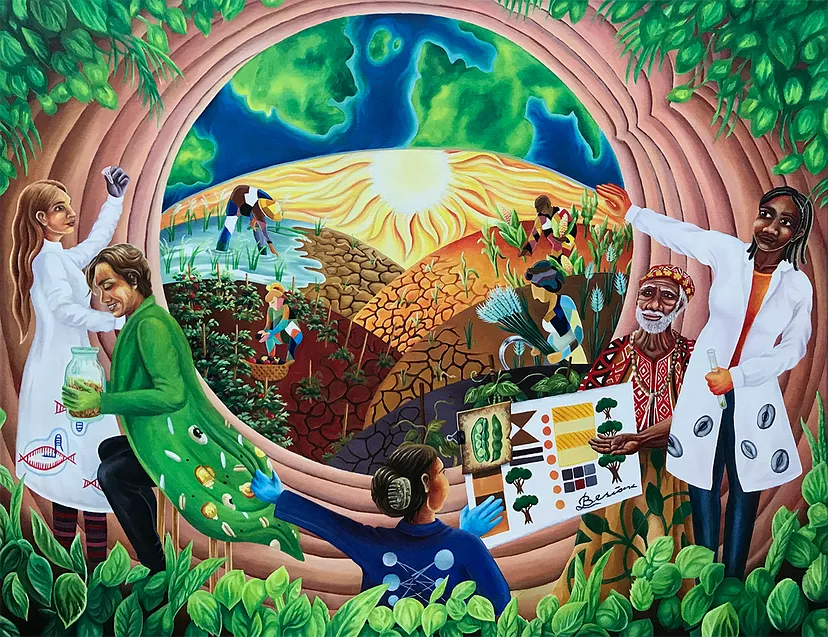 Image via University of Leeds: An oil painting commissioned as part of the project titled: 'Climate. Cultivation. Collaboration.' by Dr Besiana Sinanaj 
SUMMARY
Plants can't move. When the conditions around them change, they can't head elsewhere to find a more amenable situation. If faced with heat, drought or flooding — the kind of extremes becoming more common with climate change — plants have to adapt on the spot to survive. And some adapt more successfully than others.
In this research feature by the University of Leeds, Dr Yoselin Benitez-Alfonso from the University of Leeds School of Biology explains how a network of collaborations (through WUN) is helping research make a greater impact. Dr Benitez-Alfonso shares how her research focuses on how plants respond to changes in the conditions around them and how she is working with other scientists to apply their research in a  different field: medicine.
"Developing new applications like these is only possible by thinking laterally about our research — looking more broadly at what exactly we've discovered and how it could be used. And that's only really possible if you make connections with many different people from many different research areas."
Dr Benitez-Alfonso said "It was in this spirit that I set up a research network to address the impact of heatwaves and droughts on food security. Funded through WUN, the project involves 12 universities, from the UK, USA, China, Canada, Australia and Brazil.
The network also has members from outside WUN, including ICRISAT and a large number of European institutions, to open up the possibility of EU funding.
Being part of the network opens up many new opportunities for research. At the University of Leeds, we can grow many plant species in our specialised greenhouses and on the University farm, but there many key crop species we can't grow. By bringing in partners from other climates, we immediately expand the range of plants we can work with."
STORY