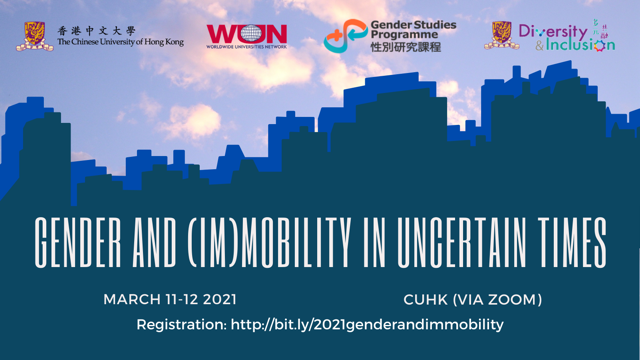 The Chinese University of Hong Kong (CUHK) researcher Professor Jing Song will hold an international conference on 11-12 March 2021 as part of her WUN interdisciplinary research group 'Women's Mobility: Negotiating Work & Family Spheres in Asia'. This research group was established in 2018 after receiving a grant from the Worldwide Universities Network's Research Development Fund.
The International Conference on 'Gender and (Im)mobility in Uncertain Times' is organised as part of CUHK's Diversity and Inclusion Week. The conference will discuss issues of workplace dynamics, family relations, gender norms, and social inequalities in public and private spheres across societies and under the pandemic. It will also address issues of gender equality, diversity, and inclusion with timely research in uncertain times.
In addition to CUHK, speakers will be drawn from fellow WUN members University of Massachusetts Amherst, National Cheng Kung University, University of York, and Zhejiang University, as well as external partners Fudan University, Shanghai University, SUNY-Albany, The University of British Columbia, The University of Hong Kong, University of Sussex, and Xi'an Jiaotong-Liverpool University.
Registration is now open. All are welcome.