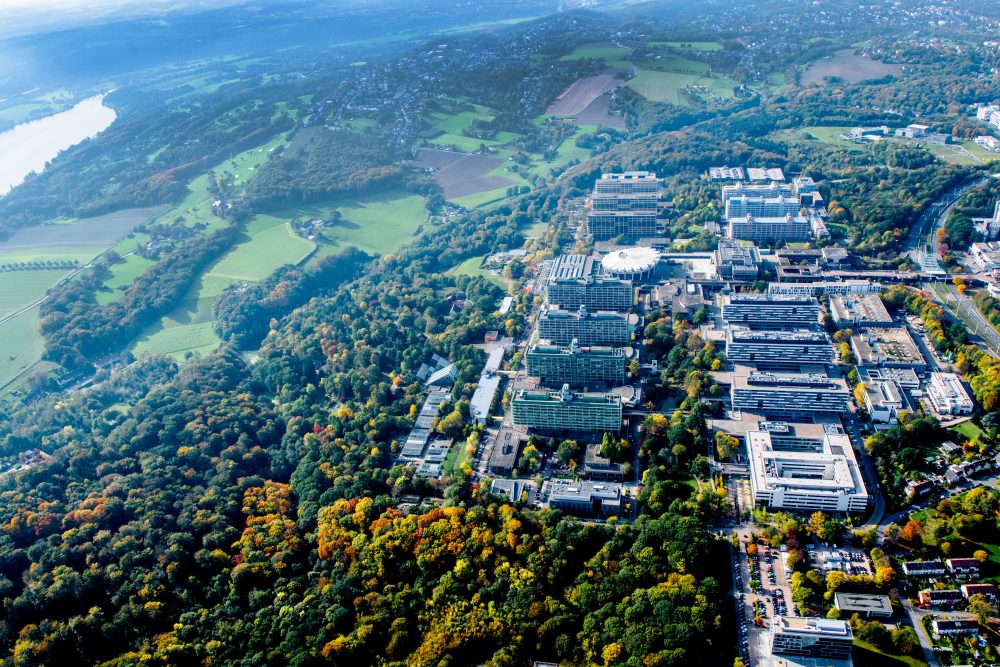 Founded as the first new university in Germany after the second world war in the 1960s, and with the ambition to become a reform university, Ruhr University Bochum (RUB) today is one of Germany's leading comprehensive research universities. It is situated in the middle of the Area Ruhr, with 5 million inhabitants the largest metropolitan area in Germany, forming a science, cultural and innovation hub in the heart of Europe.
On our campus, we host the entire spectrum of academic disciplines in 21 faculties and bring together approximately 43.000 students and more than 3.600 doctoral researchers from over 130 countries in around 200 study programs and as part of our university-wide RUB Research School, awarded twice by the German Excellence Initiative. With membership of RUB professors in prestigious national and international Academies of Sciences, a strong track-record in attracting ERC grants as well as an excellent positioning in the Alexander von Humboldt Ranking, it is confirmed that RUB is also a sought-after host for internationally renowned scholars and researchers from around the world.
RUB´s dedication to research excellence is further demonstrated by two Clusters of Excellence in the fields of IT-Security and Solvation Sciences (of which one of its principle investigators was awarded the Nobel Prize for Chemistry in 2021) and the Jean Monnet Centre of Excellence EU-ASIA Connectivity. This is complemented by nine interdisciplinary Research Departments with state-of-the-art research infrastructure, including Closed Carbon Cycle Economy, Industry 4.0, Material Sciences, NeuroMind, Protein Diagnostics, and Religious Studies. As a founding member of the South African German Centre for Development Research, we are part of the network of the DAAD Centres of African Excellence. Our Technology, Transfer and Innovation Campus includes our Worldfactory Start Up Centre which was awarded "Excellence Start Up Centre NRW" in 2019 and boasts a unique and internationally competitive ecosystem related to Chemistry, Health, IT-Security, and Material Science
At RUB, we are following our guiding principle Creating Knowledge Networks via engaging in collaborative teaching and learning and cutting-edge research with an impact. By joining forces with our two neighboring universities (Duisburg-Essen and Dortmund) as part of the University Alliance Ruhr, we have established two international liaison offices (North America and Eastern Europe/Central Asia), the Research Academy Ruhr (providing international research training, career services and networking for Early Career Researchers) and the Research Alliance Ruhr (RAR). The RAR consists of a College for Social Sciences and Humanities as well as four sustainability-related research centres: "One Health", "Chemical Sciences and Sustainability",  "Trustworthy Data Science and Security"  as well as "Future Energy Materials and Systems".
In addition to this, RUB is a founding member of a range of internationally renowned university networks. These include the Global Campus of Human Rights and The Network on Humanitarian Action, the Scholars at Risk Network (Germany Section), the Utrecht Network, as well as the European University of Post-Industrial Cities (UNIC). As part of the UNIC alliance, we have joined forces with seven other prestigious universities across Europe as well as the university´s cities. Together, we engage in innovative teaching and research related to sustainable transitions of post-industrial cities. To this end, we have set up the UNIC Superdiversity Academy, the UNIC City Labs and are in the process of establishing the UNIC Open Science Campus, a freely accessible platform for sharing and promoting new forms of collaborative knowledge production for, with, and within society, as part of our UNIC for Engaged Research Program.
Ruhr University Bochum joined the Worldwide Universities Network (WUN) in Spring 2022. Being deeply committed to diversity and sustainability, we consider this a critically important milestone in fulfilling our mission as a socially responsible European Network University with a global engagement. We will therefore make valuable contributions to and take full advantage of WUN by actively engaging in joint research collaborations, research mobility as well as academic and higher education policy analysis, exchange, and reform, and by supporting and promoting the next generation of globally engaged sustainability scholars together.
Further Information: