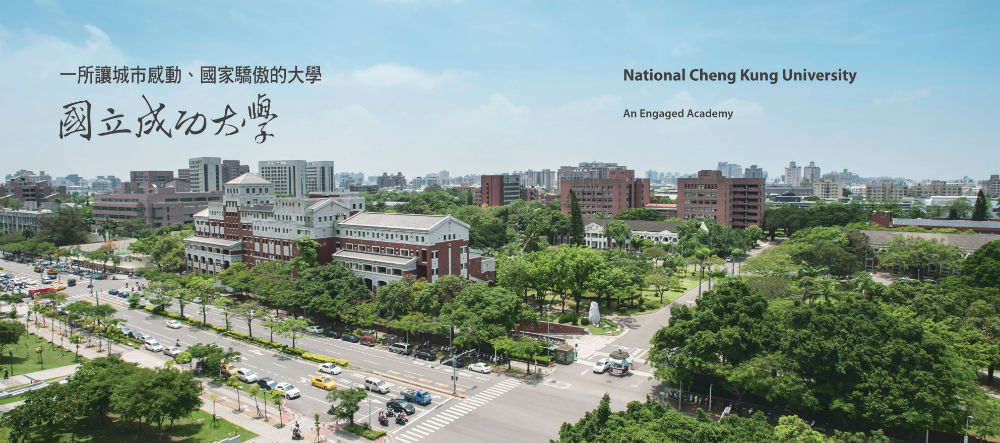 National Cheng Kung University (NCKU) is reaching out from the historic city, Tainan, as a university with a pragmatic academic climate, solid research strengths, an internationalized learning environment, interdisciplinary innovation, effective academia–industry cooperation and a pragmatic approach to issues – a school that is able to actively exert a positive influence in different sectors and also embrace the world.
National Cheng Kung University (NCKU) features a practical academic climate conducive to steadfast pursuit of knowledge and truth. Since its inception, NCKU has undergone tremendous transformation and growth. Today the school comprised nine colleges: Engineering, Management, Liberal Arts, Sciences, Medicine, Social Science, Electrical Engineering and computer Science, Planning and Design, and bioscience and Biotechnology, with 43 undergraduate programs, 36 independent graduate institutes, and nine degree programs. The colleges are located on the main campus, while the Kue-Jen, An-Nan and Dou-Liu campuses are home to respectively the Department of Aeronautics and Astronautics, the Tainan hydraulics laboratory and NCKU Hospital Dou-Liou Branch, making the school one of the academically comprehensive research university in the region.
The outstanding faculty and abundant teaching resources at NCKU have helped create extraordinary research achievements in both quality and quantity terms. According to the Essential Science Indicators (ESI) database for 2016,in 16 disciplines the number of NCKU papers cited in 10 years was among the top 1% of research institutes worldwide.
Having laid down a solid foundation in engineering and expanded into liberal arts and science, NCKU gradually developed into a comprehensive university, establishing colleges such as Medicine and Social Sciences, an Art Center and a Museum. The school has repeatedly received funding under the "Aim for the Top University Project" and is widely recognized as a leading university.
With its effective interdisciplinary integration and outstanding academic achievement and through its research centers, NCKU stays in close touch with trends and developments of society. NCKU assumes a core role in industry and public policy, social engagement, and sustainable innovation, and its achievement in these regards are also well recognized around the world.