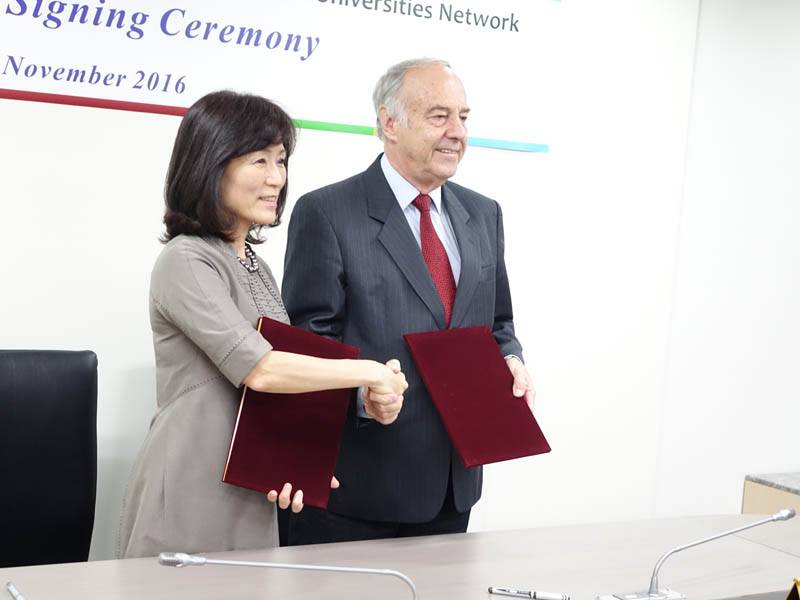 We are delighted to announce that National Cheng Kung University (NCKU) has joined the Worldwide Universities Network. The WUN Heads of Agreement was signed by President Huey-Jen Jenny Su of NCKU and WUN Executive Director Professor John Hearn on the 13th October 2016. We welcome Professor Huey-Jen Jenny Su and her colleagues to the WUN Board, Research teams and programs. We look forward to a valuable and productive partnership across the Network.
Situated in the historical city of Tainan, NCKU is a research-led, comprehensive university with a high reputation in science, engineering, medicine, management and design. NCKU is most renowned for its academic performance in engineering as well as many other fields. NCKU has 9 colleges, 40 departments, 82 graduate institutes, and 54 research centers, and it is also a major university, educational, and area-network center. 
The research strengths of NCKU are closely aligned to the four research pillars of WUN on the Climate Change, Public Health (non-communicable diseases), Higher Education and Research and Understanding Cultures, as well as the Cross-cutting themes including economics and big data. This strength brings a presence and reach for future development of equal partnerships in all WUN Global Challenge Programs. Further details of National Cheng Kung University and its profile and activities will be posted on our websites shortly.
We encourage WUN members to explore partnership opportunities with NCKU directly. The contact details of the NCKU Academic Advisory Board member, and of the Coordinators, will be advised shortly. We will visit NCKU and our other member universities in China in early November to explore and facilitate the research, education and mobility opportunities further.