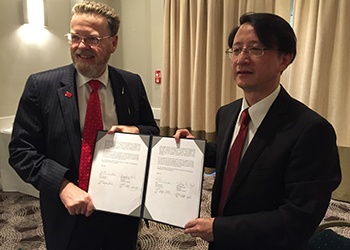 A pioneering partnership has been signed between the University of Sheffield and Zhejiang University as part of ongoing commitments to work collaboratively in tackling some of the biggest global issues.
The Memorandum of Understanding comes as part of an increasing commitment between the UK and China to boost joint academic research and student exchange, and to establish new institutions.
The University of Sheffield has a long history of working with China to further research and development and has already carried out pioneering collaborative research into issues including sustainability, energy and climate change.
Signing a reaffirmed partnership between the two WUN members, President of Zhejiang University, Professor Zhaohui Wu said: "This is an auspicious time for us to deepen our collaboration, as collaboration and innovation between China and the UK are being championed by both our governments."
"We are delighted to take this personal opportunity of the high-level people-to-people dialogue between our two governments and educators to further strengthen the relationship between our two universities – Zhejiang and Sheffield – and discuss important future opportunities."
"Key aims will now include strengthening student mobility between our institutions, including for undergraduates, and developing shared programmes at undergraduate and masters levels, working with our gifted faculty who already partner in areas of shared academic interest."
The Vice-Chancellor Professor Sir Keith Burnett warmly welcomed this approach and stressed how important it was not only for academics but also students to understand one another and the shared challenges we face in key areas such as energy, health and the environment – all areas where both universities are actively leading in their respective countries.
"This kind of partnership is a living example of the growing partnership between our peoples and educators as we work together to help our peoples address their most pressing challenges. We are proud and grateful that we do so in such a spirit of warm partnership and understanding," he said.
Zhejiang University is a member of China's C9 research intensive universities group and has 23,000 graduate students. It has five campuses and 7 hospitals, four of which are teaching hospitals. It includes a wide range of disciplines from liberal arts and social sciences to engineering, medicine and science.
Vice-Chancellor Professor Sir Keith Burnett is a senior advisor to China on language and culture and the Chair of the Sheffield Model Confucius Institute. He is a regular contributor to the UK-China debate on innovation and partnership in education, industry and health, and recently addressed the Chinese-UK delegation on cross border education and innovation.