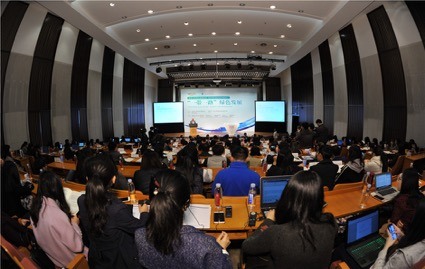 The Worldwide Universities Network Global Policy Research Group (WUN GPRG) was launched (stage 1) at Renmin University of China (RUC) on 24 March 2018 during the RUC-WUN Think Tank Conference. The launch (stage 2) will be completed at the WUN AGM in Perth on 25 May 2018. The GPRG brings a global research and policy perspective from 23 leading Universities on six continents to assist in decision-making based on the intellectual resources of some of the world's top universities. These can build an intellectual community contributing through teamwork to an improved understanding and future for mankind. The theme of the Conference was "The Belt and Road – Green Development" and it was organized jointly by the National Academy of Development and Strategy (NADS), Renmin University of China and WUN.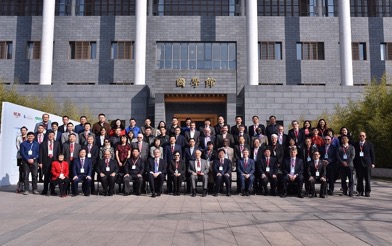 The Inauguration Ceremony of the WUN Global Policy Research Group was witnessed by JIN Nuo, Chair of Renmin University Council and Council Chair of NADS; Prof John Hearn, Executive Director of WUN; Mr JIN Xin, Secretary-General of "Belt and Road" Think Tank Network and Prof Fanny CHEUNG, Pro-Vice-Chancellor of The Chinese University of Hong Kong.
Prof LIU Wei, President of Renmin University of China and Dean of NADS; Prof John Hearn; Mr Danilo Türk, Former President of the Republic of Slovenia; Prof Martin Paul, Chair of WUN and President of Maastricht University, delivered speeches at the Opening Ceremony. Ambassador Hisham EL-ZIMAITY, Former Assistant Foreign Minister for International Organizations and Multilateral Diplomacy of the Arab Republic of Egypt; David Sandalow, Former Under Secretary of the US Department of Energy and Inaugural Fellow at the Center on Global Energy Policy at Columbia University; Jeffrey Sachs, Director of the Earth Institute at Columbia University and Director of the UN Sustainable Development Solutions Network; Prof Peter Drysdale, Director of the East Asian Bureau of Economic Research at the Australian National University; and other VIP guests, along with academics from WUN and non-WUN universities attended the Conference. Prof LIU Yuanchun, Vice President of Renmin University hosted the opening ceremony.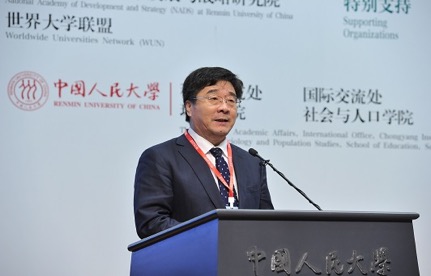 Prof LIU Wei said that Renmin University is the first formal university founded by the Communist Party of China. It has a long history of national think tanks with high intellectual and theoretical dimensions and outstanding resources, especially in the field of humanities and social sciences. The Faculties of Renmin have a solid academic foundation and are adept at analyzing and explaining practical problems with their expertise, which is an irreplaceable and unique strength of think tanks. As one of the organizers, NADS is one of China's first in a series of 25 pilot units for a national high-end think tank institution. The establishment of WUN GPRG will promote its influence and build a "knowledge exchange" into a "global knowledge cloud", with impact on policy development, offering advice on global governance and development.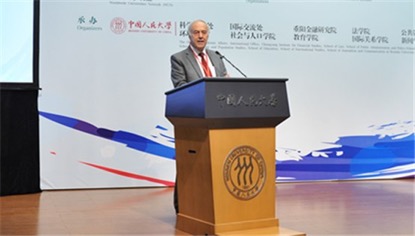 Prof John Hearn said that WUN is an organisation which explores new knowledge and new concepts, bringing evidence-based policy options to address global issues. WUN builds mutual trust between its members in carrying out research and providing practical solutions around its four main research pillars. WUN contributes to knowledge partnerships addressing global challenges in health, education, environment, food and cultural understanding. WUN explores consensus and international cooperation. This conference is a useful platform and reference in identifying global policy issues for further study and discussion.
Mr Danilo Türk mentioned that the world is facing a series of environmental challenges, which demand a global response through cooperation and mutual trust. The "Belt and Road" Initiative has the potential for great political and economic significance around the globe and encourages creative solutions. In the process of international cooperation, countries should keep sensitive to their own culture, adhere to the concept of interconnection and prioritize the problem of environmental protection.
President Martin Paul sent a congratulatory video. He said that the "Belt and Road" Initiative advocated by China will make important contributions to the solution of global issues. In the current era, universities in all countries should actively play their role, not only in their traditional functions of teaching and research, but also through participating in social development, especially in cultivating young talent, to provide new solutions for global concerns.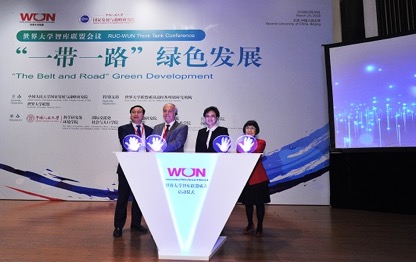 With Prof YAN Jinming, Director of the Office of Academic Affairs at Renmin University of China, hosting the ceremony, Prof JIN Nuo, Prof John Hearn, Mr JIN Xin and Prof Fanny Cheung jointly launched The Worldwide Universities Network Global Policy Research Group (stage 1). The phase 2 launch will be conducted at the WUN AGM in Perth on 25 May 2018.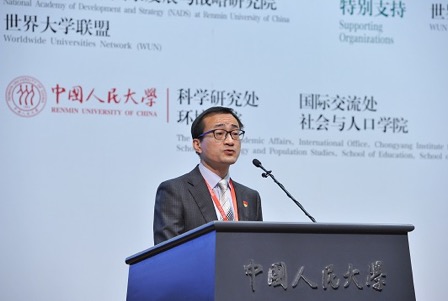 After the opening keynote speeches, the first conference session was hosted by Prof LIU Yuanchun. Prof Jeffrey Sachs, Mr EL-ZIMAITY, Mr JIN Xin, Prof Fanny Cheung and Mr QU Zhenyuan each delivered their speeches, focusing on promoting sustainable development of the global environment through interconnection; providing new solutions for global problems through the "Belt and Road" Initiative; enhancing the role of university think tanks in progressing the "Belt and Road" green development; driving interdisciplinary and global cooperation to promote the resolution of environmental issues; and facilitating the development of higher education in response to existing conflicts and challenges.
The second session was chaired by Prof XU Qinhua, deputy director of the Office of Academic Affairs at Renmin University and director of the "Belt and Road" Research Center of NADS. Mr YU Hongjun, Prof David Sandalow, Prof Peter Drysdale, and Prof Gordon Houlden each delivered their speeches, focusing on the concept of green development advocated by China in the "Belt and Road" Initiative; how experts and scholars play an active role in promoting the implementation of the Green Principles; enhancing interconnection and interoperability to achieve joint development around the globe; and enhancing information transparency in the process of green development.
In the afternoon, four parallel forums were held respectively on the themes "Law and Green Finance", "Public Health and Climate Change", "Understanding Cultures and Global Higher Education", and "Public Diplomacy and Community of Shared Future for Mankind". Experts and scholars had in-depth discussions in fields requiring consensus, e.g. laws and standards, climate change, green financial development, energy security, public health, understanding culture, higher education, public diplomacy in countries and areas involved in the "Belt and Road" Initiative. The four parallel forums were organized by eight schools of Renmin University, respectively the Chongyang Institute of Financial Studies, Law School, School of Public Administration and Policy, School of Environment and Natural Resources, School of Social and Population Studies, School of Education, School of International Studies and School of Journalism and Communication.
Twenty-six universities and research institutes, as well as leaders of think tanks, participated in the Conference. Nine leading WUN universities from five continents in the Americas, Europe, Africa, Asia, and Oceania sent representatives. The delegates attended the launch ceremony and participated in the forum discussion. China's Ministry of Foreign Affairs, the International Liaison Department of the CPC Central Committee, the State Commission for Reform and Development, the Ministry of Ecology and Environment, the National Energy Administration, China Higher Education Institute, the United Nations, the World Bank, the World Health Organization, and other intergovernmental organizations sent representatives to participate and speak at the Conference.
At the end of the conference, WUN delegates held a separate meeting, chaired by the WUN Executive Director Prof John Hearn. The purpose was to review the main outcomes from the conference and propose actions to take forward this initiative. All participants at the conference contributed towards a fruitful discussion with outcomes that will be further explored in the follow up meetings in Perth in May during the WUN Annual Conference and AGM 2018.