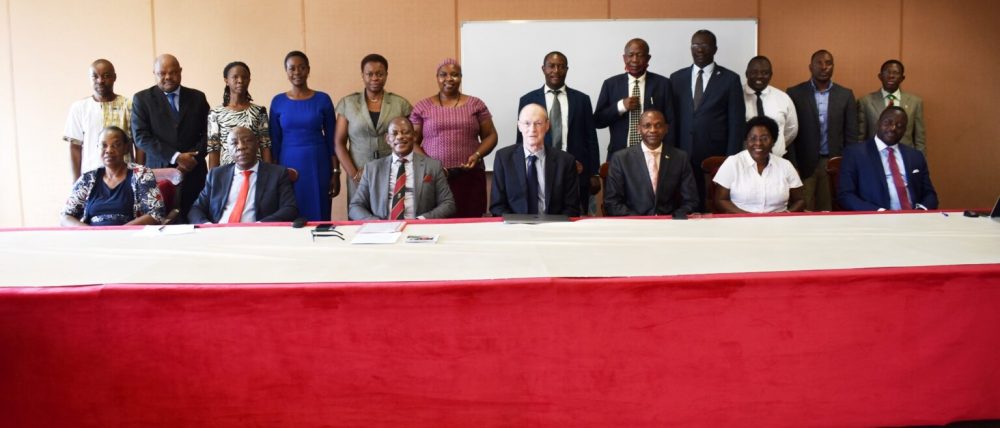 The Vice Chancellor-Prof. Barnabas Nawangwe (3rd left) and WUN Director Prof. Peter Lennie (4th right) with DVCAA-Assoc. Prof. Umar Kakumba (3rd right), Ag. DVCFA-Prof. Henry Alinaitwe and Members of Management in the Council Room at Makerere University.
On 21 and 22 March 2022, WUN Executive Director Professor Peter Lennie visited Makerere University and applauded its impactful membership. Since joining the network in September 2020, Makerere has partnered on six successful Research Development Fund (RDF) applications and Dr. Isaac Newton Alou from the College of Agricultural and Environmental Sciences (CAES) is leading the 2021 awarded project "Towards adaptive nitrogen (N) management in rainfed upland rice (Oryza sativa L.): Mapping N balance and availability along a rainfall gradient among smallholder farms in Uganda".
The DVCAA acknowledged that staff and students had greatly benefited from Makerere's WUN membership. "Four of our students have been able to participate in the Summer School program at the University of York, Dr. Dorothy Okello has been working with a team to support the WUN and is a member of the WUN Global Africa Group, and as a result of initiatives by WUN member universities, teams from both the School of Food Technology, Nutrition and Bioengineering and the School of Psychology were going to South Africa for research collaborations before COVID interrupted."
Associate Prof. Kakumba also introduced Associate Prof. John Mango from the College of Natural Sciences (CoNAS) who has been appointed as WUN Coordinator for Makerere University, with support from the Office of the DVCAA.
Read the full story here.