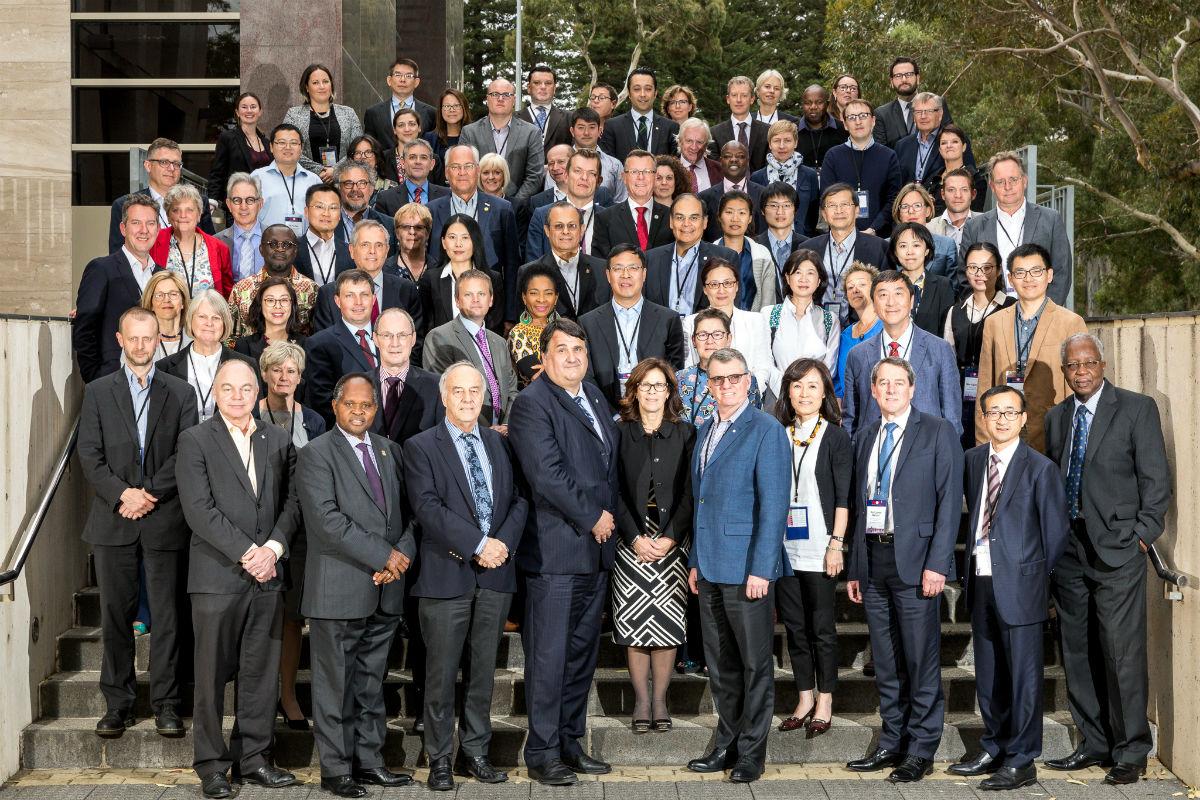 Over 150 researchers and leaders from the 23 WUN member universities met with WUN partners and external specialists and policymakers for WUN's Annual Conference, AGM and Presidents Forum.
Co-hosted by WUN Secretariat and the University of Western Australia (UWA), the six-day convention celebrated research efforts aligning WUN programs with the United Nations Sustainable Development Goals (SDGs) and charted next steps in tackling these and other global priorities. The program included frontier research workshops, strategic governance sessions, and the adoption of WUN 2018-20 strategic plans. To complete the program, a Presidents Forum focused on policy engagement.
WUN Academic Workshops 20-22 May
WUN's Responding to Climate Change (RCC) workshop kicked off on Sunday 20 May with a trip to UWA's Future Farm 2050, near Pingelly, which is part the Global Farm Platform – a WUN-supported initiative committed to research on the intensification of sustainable livestock and plant production to meet the needs of global food security.
Day 2 of the Understanding Cultures (UC) workshop featured a visit to Rottnest Island, led by Professor Len Collard (UWA), a local Noongar elder and specialist in Indigenous affairs, who explained that the popular tourist spot has glossed over its harsh colonial history as an Aboriginal prison and burial ground.
While the WUN RCC group explored innovative responses to climate change, and faced the realities of Australia's colonial history, participants in WUN's Public Health (non-communicable diseases) (PH) workshop made good progress in examining the benefits of using a life course approach to achieving optimal individual, family and population health. Five early career researchers sponsored by the University of Southampton to attend the workshop presented research findings and relished the chance to connect with more experienced scholars and explore the possibility of future collaborations.
Global Higher Education and Research (GHEAR) Workshop
Participants in WUN's Global Higher Education and Research (GHEAR) workshop agreed to focus on three major themes in the coming year that related to the contribution high-quality 21st Century universities could make to global sustainable development:
The research role of global higher education institutions (HEIs) in discerning how HEIs are shaping and are shaped by society, and are shaping and shaped by students
The legitimacy and authority of the university in a changing world
The impact of various mobilities on higher education – including the mobility of people, ideas, programs and knowledge, inbound, outbound, physical, digital, voluntary and forced
Responding to Climate Change Workshop
WUN's Responding to Climate Change (RCC) workshop used a discussion-café format to broaden RCC's research agenda – assessing current strengths and identifying future possibilities for collaboration. Informed by the SDGs, and recognising the importance of taking a co-creation approach to research, participants identified several strategic priority areas:
Food security (including marine foods)
Renewable energy from wind, tidal/wave, and biofuels
Plastic production and plastic waste, especially microplastics; blue economy
Smart climate services through big data; and
Indigenous knowledge for building cultures of climate resilience.
WUN Understanding Cultures Workshop
'I should be an expert in migration data not in data on death,' said Ann Singleton (Bristol), Vice Chair of WUN's Understanding Cultures Global Challenge Steering Group. This and other insights shared during the Understanding Cultures workshop sharpened the group's view that migration should continue to be a priority research theme, and should involve interdisciplinary collaboration across the network.
A key project will explore the establishment and preservation of burial sites and memorials to people lost in migration
The group will also look at heritage through the lens of mobility, identity and sustainability and examine how globalization is challenging national, regional and individual cultural practices.
WUN AGM
Following the Global Challenge group meetings, the focus turned to network business and the Annual General Meeting. Reports highlighted network achievements that aligned with WUN's Strategic Plan 2018–2020, and identified areas for development such as Summer schools, internships and other research-based exchanges to involve undergraduates, PhD students, and early career researchers in the network.
Chair of WUN's Partnership Board, Professor Martin Paul (Maastricht University), said he was committed to increasing student involvement and educational mobility across the network, and would continue working with the Board to achieve this.
Three significant publications by network members were celebrated during the AGM:
Q&As with the authors/editors here and here
Tribute to John Hearn
WUN paid tribute to its Executive Director, Professor John Hearn (Sydney University), who has skilfully steered the network for the past nine years to ensure its relevance.
Professor Hearn praised all who contribute to WUN's programs and governance groups for their enthusiasm and goodwill. 'I leave WUN in a stronger place than when I started with it – and feel proud of what WUN members and partners have achieved in working together.'
New Executive Director announced
WUN announced its next Executive Director, Professor Peter Lennie, who will commence in his new role on 1 August 2018.
Q&A with WUN's new Executive Director
Africa Day panel discussion
A public panel discussion about Africa and Sustainable Development Agendas was held as part of WUN's conference. The event was a joint initiative of the UWA Africa Research Cluster, WUN's Global Africa Group and the Organisation of African Communities in Western Australia. 
Presidents Forum prioritises policy impact
WUN's eighth Presidents Forum on Friday 25 May drew vice-chancellors and presidents from Africa, Asia, Europe, North and South America, and Oceania along with other experts and distinguished guests. The results suggest a model for interdisciplinary knowledge leadership that prioritizes local and global policy impact.
Keynote speakers included Professor Rod Glover (Monash University), Professor Gerard Postiglione (The University of Hong Kong), Professor Stephen Smith (UWA), Professor Nigel Healey, (Fiji National University), and Professor Dag Rune Olsen, Rector, (University of Bergen).
Over four sessions forum participants explored global policy frameworks, synergies and opportunities; regional action plans for engagement; local priorities for global challenges; and strategies to ensure WUN maximizes opportunities for policy-centred involvement.
WUN's Executive Director, Professor John Hearn, said the network had launched its Global Policy Research Group (GPRG) in March at Renmin University of China, to drive WUN's engagement with major global policy frameworks – including the SDGs, Paris Climate Accords, Belt and Road Initiative, and regional policies developing for Europe with BREXIT, Africa, and the Indo Pacific.
'This Presidents Forum in Perth is the second phase in the launch of the WUN Global Policy Research Group,' said Professor Hearn.  'and 'Our aim is to assist WUN's Global Challenge Groups, China Group, Africa Group, disciplinary groups and others, to work together to engage with international policy. Importantly, WUN will develop a clear value statement and charter for the governance of the GPRG, so that the initiative draws broad support and commitment.
'I welcome the next steps. We will then have a strong platform that sets the stage for accelerated development.'
See the Presidents Forum round-up and Presidents Forum programme for more information.
The outcomes of the Presidents Forum, the academic workshops and WUN AGM 2018 will be published and circulated. These will be followed up with strategic workshop initiatives, and seed funding of research proposals through the WUN Research Development Fund 2018-19.