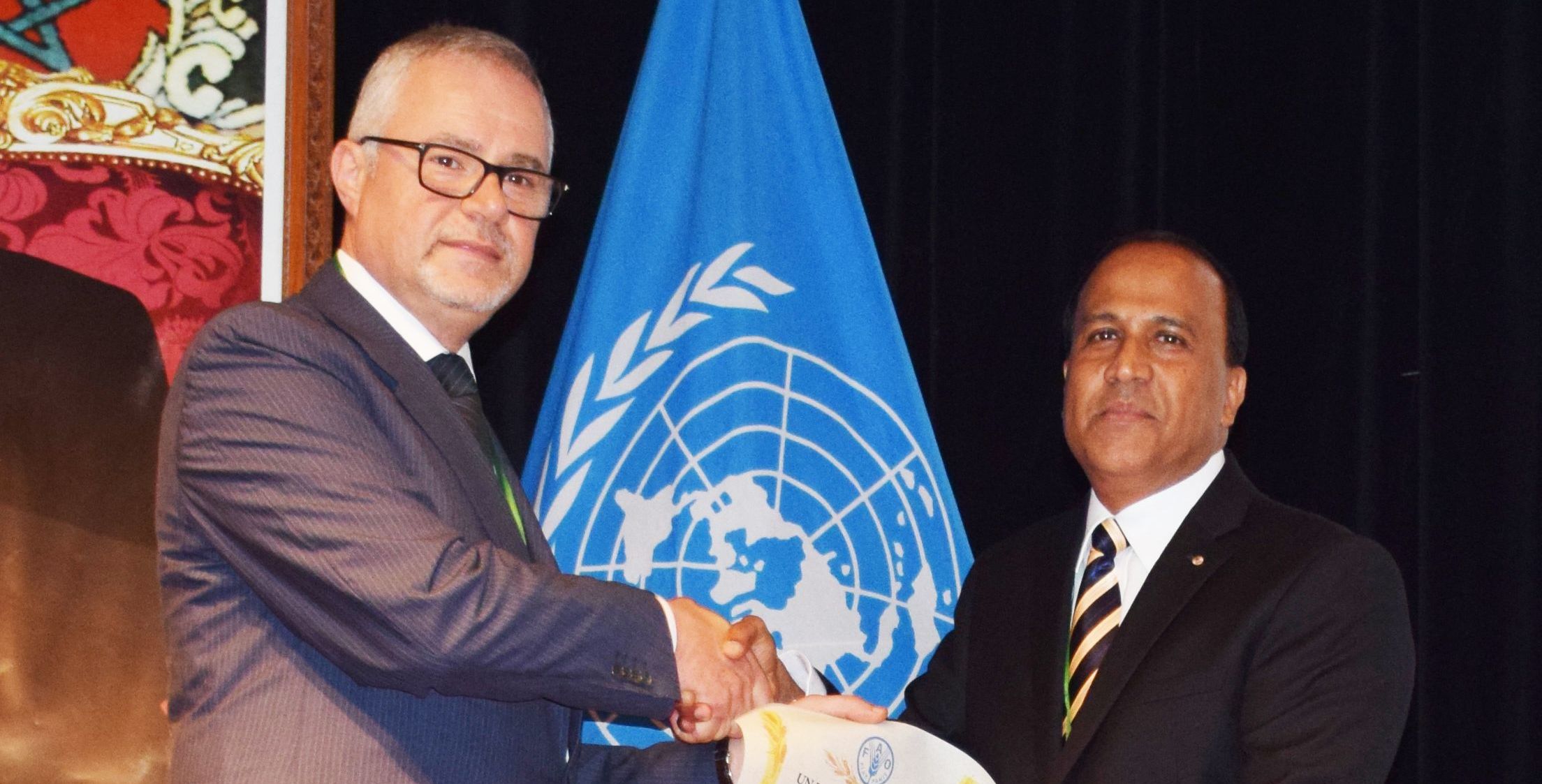 The United Nations Food and Agriculture Organization (FAO) has designated The University of Western Australia's Agriculture Chair, Hackett Professor Kadambot Siddique the Special Ambassador for Pulses 2016 at a ceremony in Marrakesh, Morocco.
Professor Siddique received the Special Ambassador designation on 18 April 2016 at the 2016 International Conference on Pulses for Health, Nutrition and Sustainable Agriculture in Drylandswhere world experts are gathering to find a path forward to boost pulse production in developing countries using science, development investments, policy and markets.
As Special Ambassador, Professor Siddique will raise awareness on the important contribution of pulses to food security and nutrition, including the positive impact of pulses to climate change, human health and environmental sustainability.
"In the changing climate, the role of pulses in farming systems is important for crop diversification, nitrogen fixation, availability of nutrients in the system, and for human health, including cardiovascular disease, diabetes, obesity and dementia," Professor Siddique said.
"I am humbled and honoured to continue the FAO's mission of eradicating hunger, food insecurity and malnutrition. With declining arable land and water, now more than ever we need to mobilise responsible governance of food production."
The Director General of Food and Agriculture Organization of the United Nations, José Graziano da Silva said the appointment was made in recognition of Professor Siddique's outstanding contribution to Australian and international agriculture, leading innovative research in production agronomy, development and breeding of pulses and cereal crops for the benefit of the grains industry in Australia and overseas.
"Your many efforts have also promoted international collaboration by providing an extensive network of research connections to help farmers improve the quality and output of their crops," Dr Graziano da Silva said.
"I am confident that your knowledge, commitment and influence would amplify the message about the important role of pulses in sustainable food production, and will send a strong signal to the international community on their benefits for soil fertility and climate change."
Professor Siddique has 30 years' experience in agricultural research, teaching and management in both Australia and overseas. As a result of his personal research and extensive collaborations, Australia has become one of the major grain legume exporting nations in the world. His pioneering research on chickpea has contributed enormously to the Australian chickpea industry, currently valued at over $300 million per annum. His chickpea varieties such as Kimberly Large are grown in the Ord River Area; kabuli chickpea variety Almaz, and more recent desi varsities varieties such as Neelam and Amber are grown by Australian farmers.
The Special Ambassadors are designated for a period of one year. For more information about the 2016 International Year of Pulses visit iyp2016.org
This article is courtesy of the University of Western Australia and can be found online at: http://www.news.uwa.edu.au/201604198527/agriculture-legumes-international-year-pulses/uwa-professor-named-fao-special-ambassado