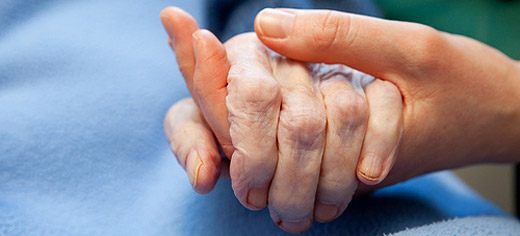 A new report jointly written by University of Leeds experts reveals that the 6.8 million people who provide unpaid care for loved ones in the UK save the state £132 billion a year.
The report for the charity Carers UK, Valuing Carers 2015 – the rising value of carers' support, is the third in a series looking at the value of carers' support to the UK economy. It shows a staggering increase in the value of carers' support since 2001, almost doubling from £68 billion to £132 billion. Researchers attribute this rise to a dramatic increase in the number of hours people are caring for, combined with an increase in the cost of replacement care.
This warning comes as Carers UK calls for better financial support for carers and an increased investment in social care services ahead of the Treasury's Comprehensive Spending Review.
Dr Lisa Buckner, of the University of Leeds' School of Sociology and Social Policy, said: "This report lays bare the massive sums which unpaid carers save the state.
"It is of paramount importance that this huge contribution is recognised with increased funding for social care services in the forthcoming Comprehensive Spending Review."
The report, co-authored by the University of Sheffield, reveals that more people are caring for a loved one than ever before. Since 2001, the carer population has grown by 16.5% to 6.8 million; vastly outstripping the growth of the general population during this same period (6.2%).
Not only are more people caring, but they are caring for longer. Since 2001, the number of people providing 20-49 hours of care a week has increased by 43% and those providing 50 hours of care or more a week has increased by a third (33%).
The number of people needing care, and those needing care for longer periods of time, has increased significantly since 2001. There are now 431,000 more people aged over 85 and 1.6 million more people living with a long-term illness than in 2001. However, as the UK's population continues to age, local authority support services are in decline.
Indeed, the report highlights that the amount of home care provided by local authorities in the UK has fallen by 4.3% from 2011-2014, and recent estimates put the total funding gap between those needing care and shrinking local authority budgets at £700million a year. As a result, families are increasingly stepping in to fill the gap.
Heléna Herklots, Chief Executive of Carers UK, said: "Caring will touch all of our lives at some point, yet society and public services still haven't grasped the extent to which our economy relies on the unpaid care provided by family and friends. If even a small percentage of people were unable to continue caring, the economic impact would be catastrophic."
Sue Yeandle, Professor of Sociology at the University of Sheffield and Director of CIRCLE (Centre for International Research on care, Labour and Equalities) co-authored the report. She said: "It is vital to recognise the true scale of carer support. In estimating the value of care, we are able to highlight the importance of the contribution that carers make, unpaid, to our society and our economy."
To download a copy of the report, visit: www.carersuk.org/valuingcarers
Further information
Contact Ben Jones in the University of Leeds press office on 0113 343 8059 or email B.P.Jones@leeds.ac.uk