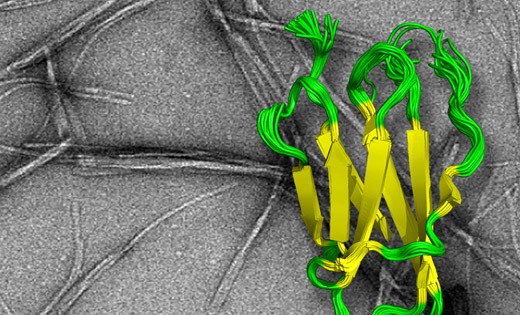 The University of Leeds is investing £17 million in a state-of-the-art laboratory for structural biology research.
The new facility will provide the University's internationally renowned
Astbury Centre for Structural Molecular Biology
with instruments for Electron Microscopy and Nuclear Magnetic Resonance that are competitive with the very best in the world.
Professor Sheena Radford FRS, Director of the Astbury Centre, said: "The biomedical challenges we face today include complex disorders associated with ageing, cancer, lifestyle and drug resistance. To develop new therapies for these diseases, we need to understand biological structures at a molecular level and this investment will keep Leeds at the forefront of this science."
The funding, approved by the Council of the University of Leeds, will pay for two powerful 300 kilovolt (kV) electron microscopes (EM) that will give researchers new insights into the structure of healthy and diseased cells, and how pathogens like viruses and bacteria attack them. The new microscopes will also allow researchers to solve the structures of individual molecules and the complexes they make in unprecedented detail.
The University will also fund a new, ultra-sensitive 950 megahertz (MHz) nuclear magnetic resonance (NMR) spectrometer which can reveal how biological structures move and interact in real time. This is essential to understand healthy cells and how they malfunction in disease. The new instrumentation will also provide researchers with insights into how to design new drug molecules to target complex health challenges such as cancer, Alzheimer's disease and antimicrobial resistance.
The new equipment will be housed in fully refurbished facilities alongside existing 120kV and 200kV EMs, and 500, 600 and 750 MHz NMR machines.  The existing machines have been purchased and systematically upgraded over the years through a combination of Leeds and Wellcome Trust funding. Work to develop the new BioStructure Laboratory will start immediately.
Professor Radford said: "Structural methods have revolutionised our understanding of biology and our ability to modify it to treat disease, and will continue to do so. Such methods are at the very heart of our centre's vision of understanding life in molecular detail. The true power of structural biology comes from the integration of electron microscopy and nuclear magnetic resonance spectroscopy with X-ray crystallography and other biochemical and cell biological approaches."
"Major investments have been made in X-ray crystallography across Europe, such as the UK's Diamond Light Source, but greater investment in electron microscopy and nuclear magnetic resonance spectroscopy is also required. Applied in combination, these structural methods provide unique insights into the structure and dynamics of even the most complex biological and biomedical systems. This latest investment in Leeds will ensure that we become one of the best resourced centres for instrumentation in structural biology in the world. We are immensely grateful to the University Council for backing the Astbury Centre in this way."
Professor John Ladbury, Dean of the Faculty of Biological Sciences at the University of Leeds and a recent recruit from the M.D. Anderson Cancer Center in Houston, Texas, said: "I am impressed by the University's vision and commitment to growth. The new investments mean that we will be able to build on the existing scientific excellence in the Astbury Centre by making a number of new senior appointments to the BioStructure Laboratory, in addition to our biggest ever
academic fellowship recruitment drive
and schemes to increase PhD Student recruitment."  
The centre has been well supported by funding agencies, other universities and industrial partners over the 16 years since it was formally constituted, and has a grant portfolio of ~£50 million. Current funders include the Wellcome Trust, the Biotechnology and Biological Sciences Research Council (BBSRC), the Medical Research Council (MRC), the Engineering and Physical Sciences Research Council (EPSRC), the European Research Council (ERC), British Heart Foundation, Cancer Research UK, Yorkshire Cancer Research, and The Bill and Melinda Gates Foundation.
Professor Ladbury added: "This investment by the University acknowledges the longstanding support from our funders for the great science in the Astbury Centre and underlines our commitment to working closely with our funders and partners into the future".
Image information:  The image shows the aggregates (grey) that cause amyloid diseases (such as Alzheimer's) and the protein that forms these aggregates (green and yellow).
Further information
The Astbury Centre
The Astbury Centre brings together more than 60 principal investigators and approximately 350 researchers from across the University of Leeds with expertise in chemical biology, biophysics, cell biology and structural molecular biology. 

Members address major research questions in areas as diverse as membrane proteins, protein folding and assembly, viruses, motor proteins and biological systems engineering. 

The centre is named after Professor William Astbury, a physicist and molecular biologist, who made pioneering X-ray diffraction studies of biological molecules during his academic career at Leeds, which stretched from 1928 to 1961. 

Astbury's work on keratin provided the foundation for Linus Pauling's discovery of the alpha helix. He also studied the structure of DNA in 1937 and contributed to the elucidation of its structure.

Sir William Henry Bragg PRS who worked at Leeds as the Cavendish Professor of Physics from 1909 until 1915 founded the science of X-ray crystallography, the analysis of crystal structure using X-ray diffraction. He shared the Nobel Prize for Physics for this work with his son William Lawrence Bragg in 1915. Astbury worked with Bragg at UCL and Cambridge before his appointment to Leeds in 1928.
New appointments
Senior appointments
The Astbury Centre has recently recruited new professorial chairs in NMR and X-ray crystallography, through its top performers initiative. The University of Leeds will seek to recruit further senior academics to take advantage of our world-class facilities.
Academic Fellowship Scheme
The Astbury Centre has a strong track record of attracting externally funded fellowships. This group of excellent young scientists will be strengthened further by the University's own Academic Fellowship Scheme. The

250 Great Minds

campaign is a £100 million University investment to recruit new academic staff who will be given the opportunity to build strong, independent research portfolios and deliver innovative, research-led teaching. The programme, launched on 1 October 2014, will span three years. The first 70 University Academic Fellows, drawn from leading universities and research institutes around the world, have already been appointed.
The Astbury Centre hosts a 4-year PhD programme funded by the Wellcome Trust. A number of students are also funded by the

White Rose BBSRC Doctoral Training Partnership

. Together, these programmes recruit excellent students with a wide range of expertise to address fundamental biological questions. The University is committed to increasing the number PhD studentships it supports by more than 35% over the next 5 years. In 2014, it launched the University of Leeds 110 Anniversary Research Scholarship Scheme. In the period 2014-2016, a total of 330 additional PhD studentships will be supported by the University.
Contact
Professor John Ladbury and Professor Sheena Radford are available for interview.
For further information, contact Chris Bunting, Senior Press Officer, University of Leeds, on 0113 343 2049 or email c.j.bunting@leeds.ac.uk.