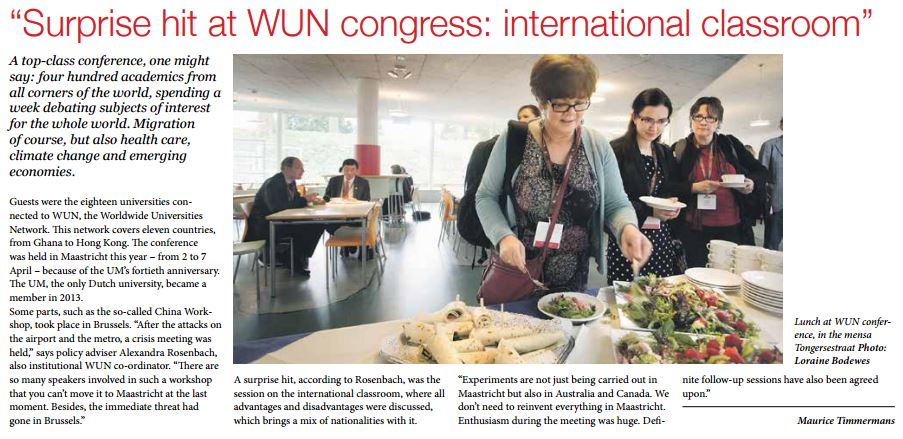 A top-class conference, one might say: four hundred academics from all corners of the world, spending a week debating subjects of interest for the whole world. Migration of course, but also health care, climate change and emerging economies.
Guests were the eighteen universities connected to WUN, the Worldwide Universities Network. This network covers eleven countries, from Ghana to Hong Kong. The conference was held in Maastricht this year – from 2 to 7 April – because of the UM's fortieth anniversary. The UM, the only Dutch university, became a member in 2013.
Some parts, such as the so-called China Workshop, took place in Brussels. "After the attacks on the airport and the metro, a crisis meeting was held," says policy adviser Alexandra Rosenbach, also institutional WUN co-ordinator. "There are so many speakers involved in such a workshop that you can't move it to Maastricht at the last moment. Besides, the immediate threat had gone in Brussels."
A surprise hit, according to Rosenbach, was the session on the international classroom, where all advantages and disadvantages were discussed, which brings a mix of nationalities with it.
"Experiments are not just being carried out in Maastricht but also in Australia and Canada. We don't need to reinvent everything in Maastricht. Enthusiasm during the meeting was huge. Definite follow-up sessions have also been agreed upon."
This article originally appeared in The Observant.