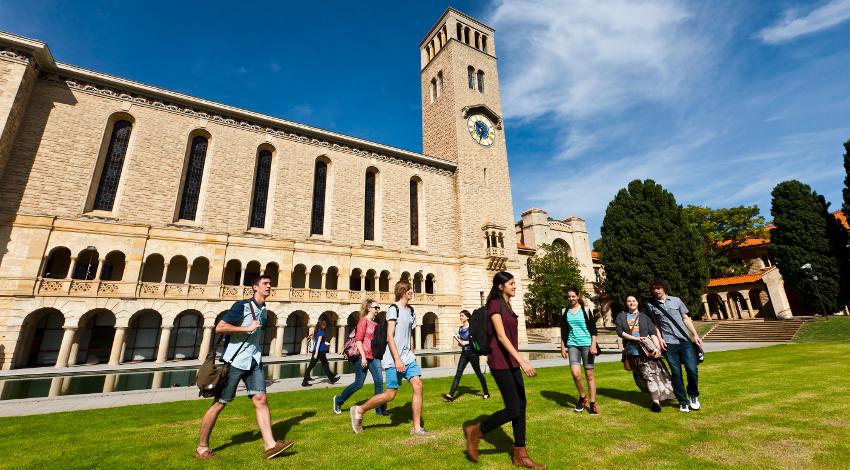 This op-ed originally appeared in The West Australia on 17 May 2018
International education and tourism has recently become an increasing subject of interest and debate for both the State and the nation. International education is now Australia's third biggest export earner — bringing in $32.2 billion last year. The $32 billion that international students spend in Australia creates thousands of jobs for Australians in all sectors of the economy — and this does not include the additional amounts they, and visiting family members, spend on tourism.
But the benefits of international students are not simply financial. We live in an increasingly interconnected multicultural world, and our universities are microcosms of this, with international and domestic students all benefiting from better understanding of and respect for each other's cultures, in many cases creating enduring friendships which in turn lead to mutually beneficial links between Australia and countries in the region.
Much of the recent reporting has focused on Australian universities' partnerships and exchanges with China, and importantly the broader economic and cultural value of such relationships — including questions about Australia's long-term relationship with China as its influence grows.
Increasing engagement with China, and the two-way flow of students between our countries, has been vital in maintaining a strong and mutually respectful China-Australia relationship.
We may not agree on every issue, but by developing close people-to-people links we enhance our ability to resolve issues, and to understand and respect differences.
Last week, along with more than 200 presidents and vice-chancellors of the world's leading universities, I attended Peking University's 120th anniversary celebrations in Beijing and the presidents' forum, where I spoke as part of a panel discussing cultural heritage and innovation.
In addition, the chairman of the Group Of Eight leading Australian research universities, Ian Jacobs, and I led a small GO8 delegation on visits with the Ministry of Education, the China Scholarships Council and other associated university partners, as well as meeting Jan Adams, Australia's ambassador to China. The University of WA has several important education collaborations with Chinese universities. Foremost are two important programs with South West University in Chongqing.
Entry into these collaborative programs is extremely competitive with students needing to achieve at least the equivalent of an ATAR of 98 to be admitted. The first of these (established in 2013) sees UWA academics teaching eight subjects into SWU's bachelor of engineering four-year degree.
At the end of the third year, students can choose to continue for a fourth year at SWU and be awarded the SWU degree or to transfer to UWA for our two-year master of professional engineering, and receive both degrees. A new intake from Chongqing arrives in Perth in July, bringing 130 students from this pathway to study at UWA. The second UWA-SWU collaboration is Westa College, a tripartite joint school where students can choose from four majors, two taught by UWA academics (biotechnology and economics) and two by academics from the University of Tasmania (food science and information systems engineering). All teaching is in English.
From July next year we expect there will be 170 students from Westa studying in Perth each year. Westa college is a $30 million partnership, jointly funded by the MoE ($20 million) and SWU ($10 million). It is often cited as Australia's flagship joint education program in China.
UWA has several similar programs with other high quality university partners in China that are structured along similar lines, for example Zhejiang Univerity (ranked number three in China), Shandong University Weihai (ranked in the top 20), South China University of Technology (also top 20), Guangdong University of Finance and Economics, Guangdong University of Finance, Guangzhou University and Guangdong University of Technology.
When combined with other similar pathways with partners elsewhere in China (Beijing, Shanghai, Dalian, Xi'an, Harbin to mention a few), there will be well over 1000 students from Chinese universities on our campus in Perth each year.
While China is a vital part of UWA's international engagement, we have strong links with universities across the globe. And with international students and staff from over 120 countries, we are truly a global university.
This will be the lived experience on campus next week, as the Worldwide Universities Network, an association of 23 international world class universities, is holding its AGM at UWA, and I look forward to welcoming the vice-chancellors and presidents from Europe, North and South America, Africa, Asia, and Oceania.
Two-way flow has been vital in maintaining a strong and mutually respectful relationship.
Professor Dawn Freshwater is Vice-Chancellor of The University of Western Australia and a Member of the WUN Partnership Board.
Image: ACBR