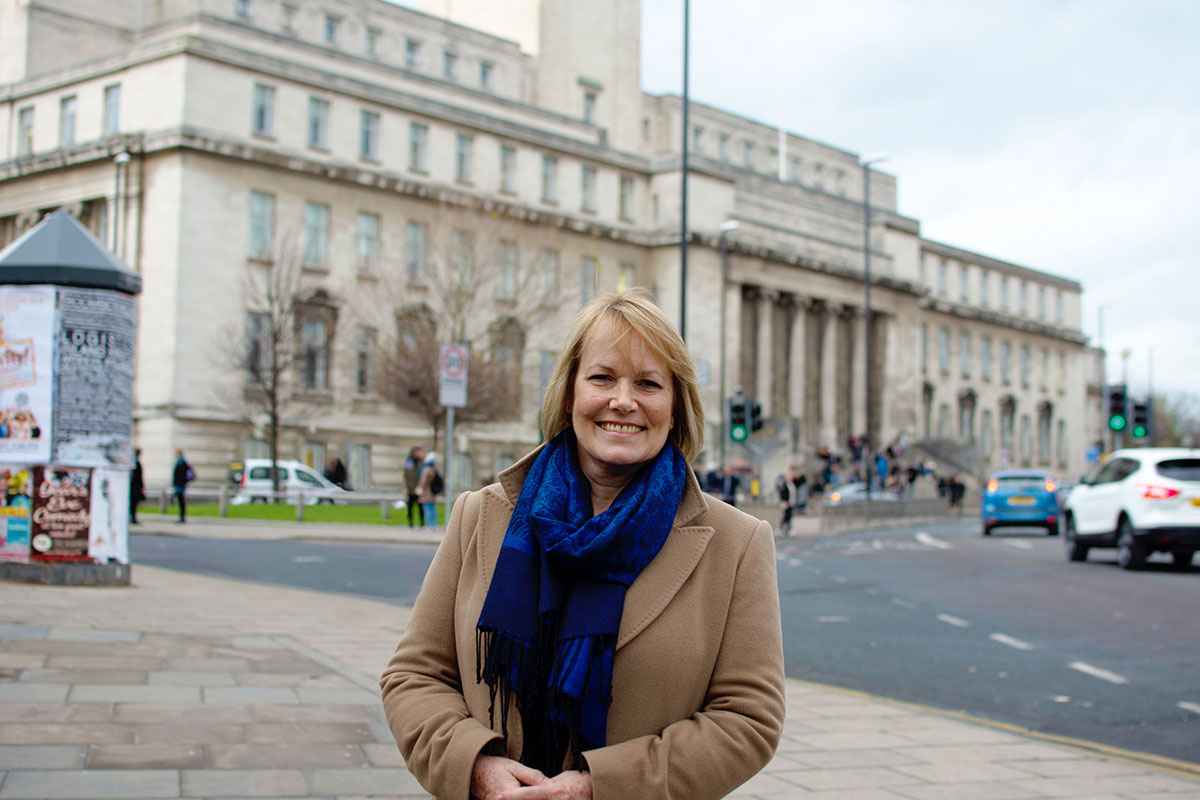 Director of the British Antarctic Survey, Professor Dame Jane Francis, has been announced as the new Chancellor of the University of Leeds.
A prominent polar scientist, Jane has conducted pioneering research – with numerous expeditions to the Arctic and Antarctic – and has undertaken a wide range of international roles to promote the UK's polar interests.
Appointed Dame Commander of the Order of St Michael and St George in the 2017 New Year Honours for her distinguished contributions to polar science and diplomacy, Jane is also the recipient of the Polar Medal, presented for outstanding polar research.
She has strong ties with the University, with a 22 year career at Leeds. She became Professor of Palaeoclimatology, Head of the School of Earth and Environment, and from 2008 – 2013, was Dean of the Faculty of Environment.
In 2014, the University awarded Jane an Honorary Doctorate of Science.  
She succeeds Melvyn Bragg (Lord Bragg of Wigton) who stepped down this year, after 17 years in office.
Sir Alan Langlands, Vice-Chancellor at the University of Leeds said: "My warmest congratulations to Jane on becoming Chancellor. She will be an inspiration to students and staff, both as an academic with an exceptional track record in education and research, and as someone who has pushed the boundaries of human endeavour.
"Jane's concern for the beauty and fragility of the Polar Regions and her commitment to addressing issues of global importance will inspire our students. She is the perfect ambassador for our achievements and aspirations, and we look forward to welcoming her back to Leeds.
"On behalf of the University, I would also like to express sincere thanks to Melvyn Bragg for the energy, commitment and intellectual curiosity that he has brought to the role of Chancellor; helping us to raise our profile and promoting the interests and  value of universities in public debate during a critical time for UK higher education."
The Chancellor acts as a figurehead and advocate for the University. Jane will preside over degree ceremonies and confer degrees, chair meetings of the University Court and support profile-raising events.
Jane said:
"I loved my time at Leeds and feel truly honoured to be back as Chancellor. Helping to inspire passion and achievement is what excites me in my work, and in this role I hope to be able to do just that. Leeds has grown from strength-to-strength in recent years, and I look forward to being able to give back and support the University in all its endeavours."
Melvyn Bragg said: "I've known and admired Jane for years and I am delighted by her appointment. I can't think of a better choice. She is a top-class scientist; she has a real passion for the transformative power of universities; and she has empathy with students and staff alike. I'm sure Jane will make a great Chancellor."
Jack Palmer, Union Affairs Officer at Leeds University Union (LUU) and a member of the Committee on the Chancellorship which advises on nominations, added: "Students will be delighted with the appointment of Jane as Chancellor. She is experienced in working closely in partnership with students at the University from her time as Dean and I'm sure she will continue to be an inspirational figure. 
"Jane's influential research and respected voice on environmental science comes at a time when students are taking an increasing interest in environmental issues and the effects of climate change. We at LUU very much look forward to meeting the new Chancellor." 
Jane was appointed by the University's Court on Friday 8 December, having been nominated by the University's Council.
Jane will be installed as the Chancellor in a ceremony in 2018.
About Professor Dame Jane Francis:
Jane took up her post as Director of the British Antarctic Survey in October 2013.  
She was appointed Dame Commander of the Order of St Michael and St George (DCMG) for services to polar science and diplomacy in the 2017 New Year Honours.
The Geological Society of London, in conferring the Coke Medal upon her in 2014, described Jane as playing a 'pivotal role in shaping and directing the Earth science carried out in polar regions, through her extensive service on a staggeringly wide range of national and international policy committees'.
In 2002, she was the recipient of the Polar Medal – the fourth woman to achieve this award – for "extreme human endeavour against the appalling weather and conditions that exist in the Arctic and Antarctic" and previously awarded to Captain Robert Scott and Sir Ernest Shackleton.
She sits on polar science advisory bodies for several countries and has been deeply involved with the Antarctic Treaty – a unique international agreement which protects the world's largest and most pristine wilderness.
Jane is renowned for her ability to make complex scientific research accessible, exemplified in her appearance on Desert Island Discs in September 2017.