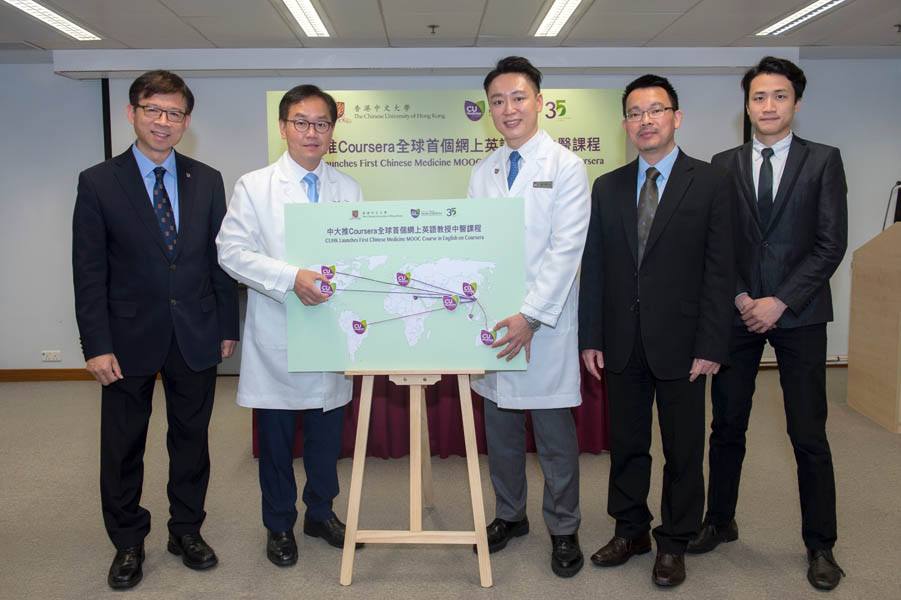 The World Health Organization (WHO) has stated that, though Chinese medicine has been widely authorized and practiced around the world, there is no sufficient platform to provide research data, related information or training. To cater for the international demand in education and scientific research evidence, a team from the Faculty of Medicine at The Chinese University of Hong Kong (CUHK) spent two years to develop a Chinese medicine MOOC in English and Asia's first Chinese medicine clinical evidence online portal which gathers studies from around the world.
The two online platforms were launched with the aim to promote basic knowledge of traditional Chinese medicine as well as research data to overseas. The material will enable local and overseas healthcare professionals to have a better understanding of the efficacy of traditional medicine and hence bring it to the next level of development in the world.
Prof. Justin Wu, Associate Dean (Development) of Medicine, said, "To promote universal education in Chinese medicine, we have collaborated with the internationally renowned MOOC platform Coursera, creating its first Chinese medicine course in English which helps individuals to learn basic Chinese medicine. The course is free of charge and can be accessed anytime and anywhere. To provide healthcare professionals and the general public with a convenient tool to understand Chinese medicine research papers, the CUHK team has also developed an evidence-based online platform, namely 'Integrative Medicine Clinical Evidence Portal', gathering scientific research papers and simplifying the study basics and findings into language that the public finds easy to digest."
About 'Everyday Chinese Medicine'
This course (link) is taught by Chinese medicine teaching staff from the Faculty of Medicine, School of Chinese Medicine, Hong Kong Institute of Integrative Medicine, and Jockey Club School of Public Health and Primary Care at CUHK. Over 1,700 people have enrolled in the course since its soft launch in September, with over 35% of the students from the US.
The course comprises five one-hour sessions with one session per week. It is delivered in video format combined with animation and graphics. The first phase of the course helps learners to understand basic theories of Chinese medicine, diagnostic methods, and to compare and contrast views from Chinese and western medicine perspectives. In the second phase that is expected to be introduced in 2019, the course will teach herbs, acupuncture, self-therapy such as food therapy and Baduanjin, and integrative medicine.
About the Integrative Medicine Clinical Evidence Portal
The Integrative Medicine Clinical Evidence Portal (link) collected over 200 medical clinical trials and systematic reviews, categorized by intervention or by condition.  They were translated into user-friendly synopses which are found effective in promoting the uptake of evidence on effectiveness and safety among healthcare professionals.
For more information, please click here.