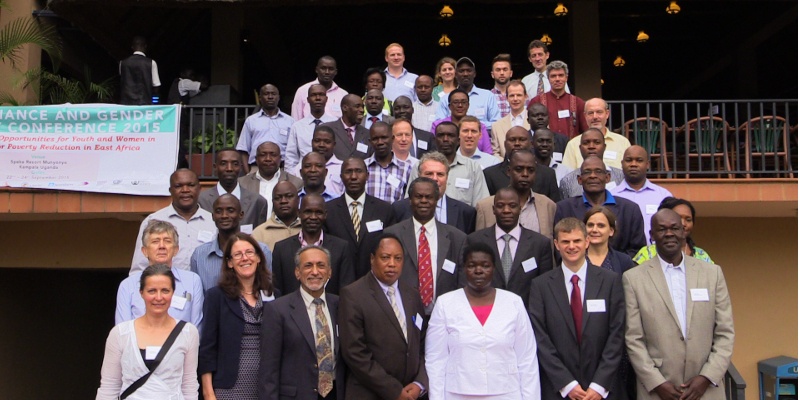 A UK government-funded initiative will put £20 million behind research to better understand Africa's changing climate and the use of climate change information in decision-making across the continent.  
Future Climate for Africa (FCFA) is supporting five major research projects to develop better climate information for Africa and to test how the new information could be used in decision-making. Dr John Marsham from the University of Leeds is leading the HyCRISTAL project, which addresses East Africa, while fellow researchers from the University's School of Earth and Environment are taking key roles in the projects addressing West Africa (AMMA2050), southern Africa (UMFULA) and modelling African climate (IMPALA).   
FCFA is a joint programme of the UK's Department for International Development (DFID) and Natural Environment Research Council.
Dr Marsham said: "Making use of the latest climate science and applying this to water resource management will help communities adapt and be resilient to future changes. 
"East Africa has one of the world's fasting growing populations, and is very vulnerable to climate change. HyCRISTAL will work with water users in the region to ensure that key long-term decisions for both rural and urban communities take account of climate change."
Africa's climate is one of the least researched and poorly understood in the world, but looks set to change significantly in the decades ahead. The Intergovernmental Panel on Climate Change (IPCC) concluded that temperatures could warm up to 6 degrees Celsius on the continent this century, and vast areas could experience more intense drought or rainfall than known before. 
Dr Tim Wheeler, DFID's Deputy Chief Scientific Adviser, said: "FCFA will not only improve the climate information available to African decision-makers, but it also aims to work with both scientists and stakeholders across the continent to ensure that information is better tailored to users' needs and to strengthen the skills of users in the interpretation and use of climate information. The programme will also make a significant contribution to training African climate scientists. That way, African researchers can support decision-makers as they invest in infrastructure and development programmes in Africa in the future."   
NERC Chief Executive Duncan Wingham said: "Supporting science that helps society manage the effects of environmental change is one of NERC's key strategic objectives. We are delighted to be investing in Future Climate for Africa, which will provide African governments, business and other stakeholders with the information they need to make decisions that increase resilience and reduce climate risk."
FCFA has awarded major grants to the following research projects:
• AMMA-2050 (African Monsoon Multidisciplinary Analysis 2050)
AMMA-2050 will improve understanding of how the West African monsoon will be affected by climate change in the coming decades – and help West African societies prepare and adapt. 
• FRACTAL (Future Resilience for African Cities and Lands)
FRACTAL will improve scientific knowledge of future climate trends in Southern Africa, deepen urban policy-makers' understanding of how climate change will affect water and energy services, and support them to explore climate-resilient development choices. 
• HyCRISTAL (Integrating Hydro-Climate Science into Policy Decisions for Climate-Resilient Infrastructure and Livelihoods in East Africa)
HyCRISTAL will develop new understanding of climate change and its impacts in East Africa, working with the region's decision-makers to manage water for a more climate-resilient future.
• IMPALA ( Improving Model Processes for African Climate)
IMPALA research will improve understanding of African climate processes and the mechanisms of future change – leading to a step change in global climate model prediction capability for Africa. 
• UMFULA (Uncertainty reduction in Models for Understanding Development Applications)
UMFULA will provide new insights and more reliable information about climate processes and extremes in Central and Southern Africa. UMFULA will partner with agencies and universities in Tanzania and Malawi to link the information to development decisions with long-term consequences. 
The HyCRISTAL consortium is led by Dr John Marsham, University of Leeds, UK. For more information or to arrange an interview, please contact Rebecca Slack, HyCRISTAL Coordinator, R.Slack@leeds.ac.uk 
Claire Mathieson and Jean-Pierre Roux, FCFA Coordination, Capacity Development and Knowledge Exchange – South Africa (on 26-27 October): +27 (0) 21 447 0211 claire.mathieson@cdkn.org and jp@cdkn.org
Mairi Dupar FCFA Coordination, Capacity Development and Knowledge Exchange – UK (on 23 October): +44 (0) 7921 088475 mairi.dupar@cdkn.org
Image
Caption: Delegates and the Hon. Flavia Munaaba Nabugere, Acting Minister for Water and Environment, at the first HyCRISTAL workshop in Kampala.
Credit:  Julio Araujo