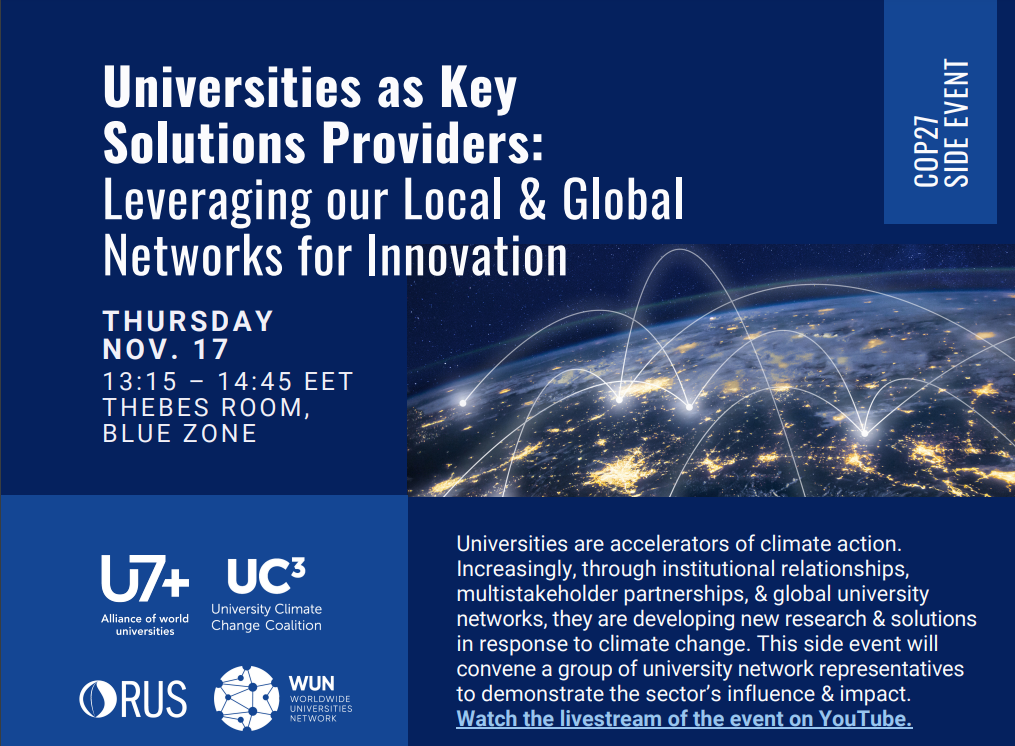 WUN will be participating in the COP27 Climate Change Conference in November 2022 through our participation in a side event "Universities as key solutions providers: Leveraging our local and global networks for innovation" scheduled for Thursday 17 November 2022, 13:15-14:45 EET in Thebes Room, Sharm El-Sheikh International Convention Center Blue Zone, Sharm El-Sheik, Egypt.
Conference attendees with access to the COP27 Blue Zone can attend in person. The event will also be live-streamed on YouTube.
COP27
The 27th session of the Conference of the Parties (COP 27) to the United Nations Framework Convention on Climate Change (UNFCCC) will take place in Sharm El-Sheikh, Egypt from 6-18 November 2022. COP27 will bring governments and other stakeholders together to accelerate global efforts to confront the climate crisis.
Side event description
All agree the scientific community is critical to the fight against climate change, but universities are less present in the debate. Yet our campuses develop thousands of technological, policy, and societal innovations each year by working closely with local and global partners across sectors. Our panel, representing institutions in the global south and global north, features university and community leaders demonstrating that universities can be effective co-creators of solutions with governments, community, and industry. The WUN representative on the panel is Bill Flanagan, President and Vice-Chancellor of the University of Alberta.
Participating Organisations
Worldwide Universities Network, represented by the University of Alberta
U7+ Alliance, represented by University of Toronto; Australian National University; Northwestern University; Université Côte d'Azur; Université de Montréal; University of Edinburgh)
Italian University Network for Sustainable Development (RUS), represented by Polytechnic of Turin
Second Nature, secretariat for the University Climate Change Coalition (UC3)
Washington University
The voice of the next generation is front and center in our discussion:
The students representing WUN member universities are:
Chien-Yu Pan, National Cheng Kung University (NCKU)
Manuel Carrera Uribe, National Cheng Kung University (NCKU)
Millie Cleopatra ONeil, University of York
Su Natasha Mohamad and Hanyu Qi, The University of Sheffield
Luke Sperry, University of Alberta
Yue Fei, University of Alberta