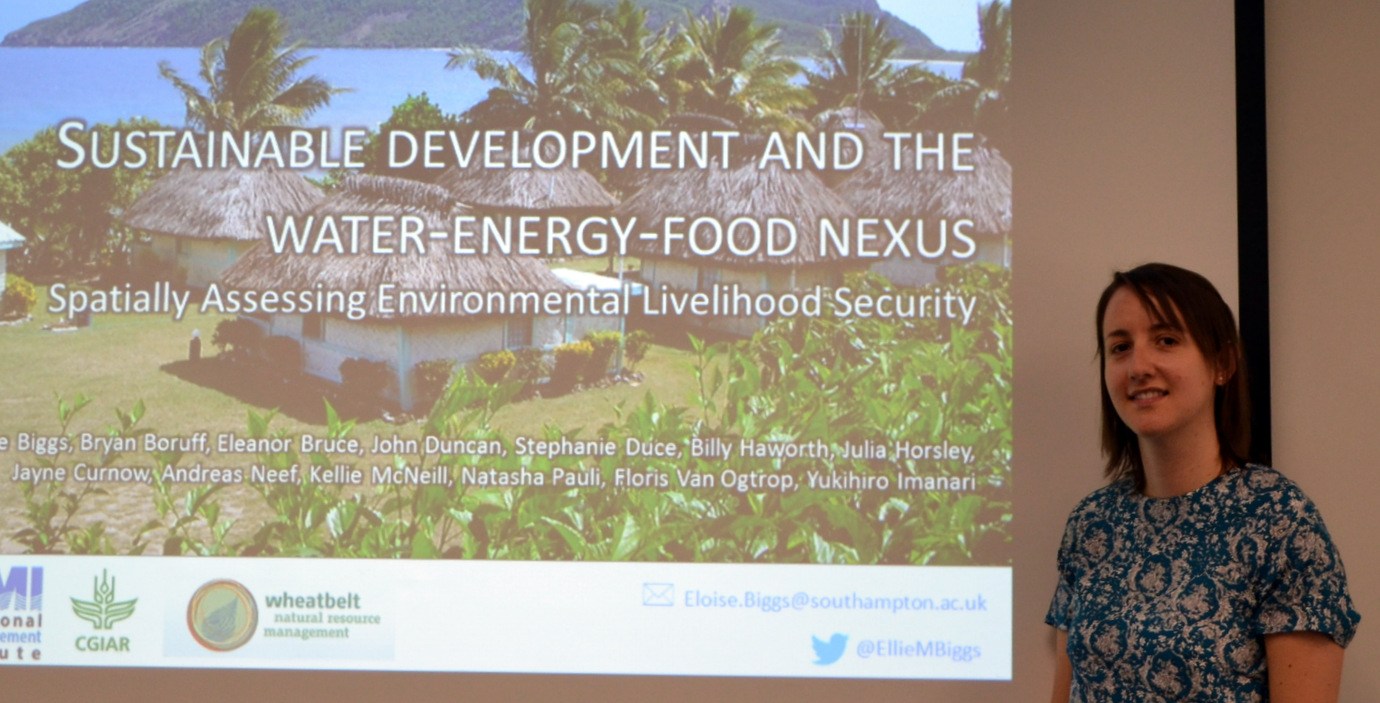 In communities where livelihoods are linked to the land and sea, environmental security is of utmost importance. This is particularly true in the developing nations of the Asia-Pacific, where many localities have a high dependency on fisheries, tourism and agriculture. Moreover, global changes are increasingly resulting in challenging localised impacts, such as increased frequency of extreme events. Thus, understanding the social-environment system is imperative to providing solutions for responding to climate change.
Led by Dr Eloise Biggs from the University of Southampton, a team of WUN researchers is investigating environmental and livelihood security in Southeast Asia and Oceania, within the context of promoting sustainable development. Their goal is to develop a comprehensive theoretical framework for the analysis of environmental livelihood security, which will provide the foundation for applying spatial-based methodologies to assess environmental security for livelihoods in the Asia-Pacific. Their research draws upon existing concepts to coin a new term: 'Environmental Livelihood Security' (ELS). This refers to the challenges of maintaining global food security and universal access to freshwater and energy in order to sustain livelihoods and promote inclusive economic growth, while also sustaining environmental functionality.
"Sustainability is critical for the long-term survival of both the environment and humanity. There needs to be focus on balancing natural resource supply with human demand on the environment, only then will sustainability be achieved. Through determining sustainable solutions for society's use of water, energy and food resources, both livelihood and environmental pressures can be alleviated," says Dr Biggs.
The project brings together a range of researchers, including early career postgraduates and postdoctoral fellows, from the University of Auckland, the University of Southampton, the University of Sydney and the University of Western Australia, as well as regional practitioners and policymakers. Their expertise spans the disciplines of geography, sociology and international development, while their research experience spans Australia, Vietnam, Fiji, Philippines, Malaysia, Indonesia, Laos, East Timor, Cambodia, New Zealand and Thailand.
"We comprehensively appraised the literature on environmental security, sustainable livelihoods and water-energy-food security to develop ELS as a concept, and subsequently generated a framework for which we could spatially assess ELS across Southeast Asia and Oceania. The multi-scale approach to our research is very important to capture the geographical variation in environment-livelihood interactions across the region, ensuring that the framework can be adaptable to geographical context whilst adding value for multi-level decision-making regarding sustainable development policy," says Dr Biggs.
In 2013, the group was awarded a WUN Research Development Fund (RDF) grant. Dr Biggs says the funding has greatly contributed to the project's success.
"Our project would not have been possible without WUN funding as we specifically devised our research topic to draw together expertise from potential collaborators across the network. The funding enabled world-leading institutions and expert individuals to bring together their knowledge to tackle a novel multidisciplinary research issue," she says.
Prior to this project, Dr Biggs also received funding from WUN's Research Mobility Programme (RMP), which she says has facilitated the internationalisation of her research.
"Through the small amount of money WUN has provided, I have managed to build a solid research network within a field of research I am wholly passionate about, generating a highly productive and active research team. Given the strength, respect and conviction I have in our research consortium, I will assuredly continue to work with these colleagues for the rest of my career," she says.
To date, the group has produced a full technical white paper on the topic of Environmental Livelihood Security in Southeast Asia and Oceania, which was published by the International Water Management Institute (IWMI). They have also published an IWMI water policy brief, presented at two international conferences and gave two international seminars on their research outputs. They currently have a journal article in review and are producing a series of infographics to effectively convey their research findings to a non-academic audience. They have also submitted multiple funding applications to continue their research and have been successful on an Asia-Pacific Network grant.
Read more about the WUN Spatial Framework for Assessing Environmental Livelihood Security project.
Follow #WUNRDFNexus on Twitter for live updates on the project.