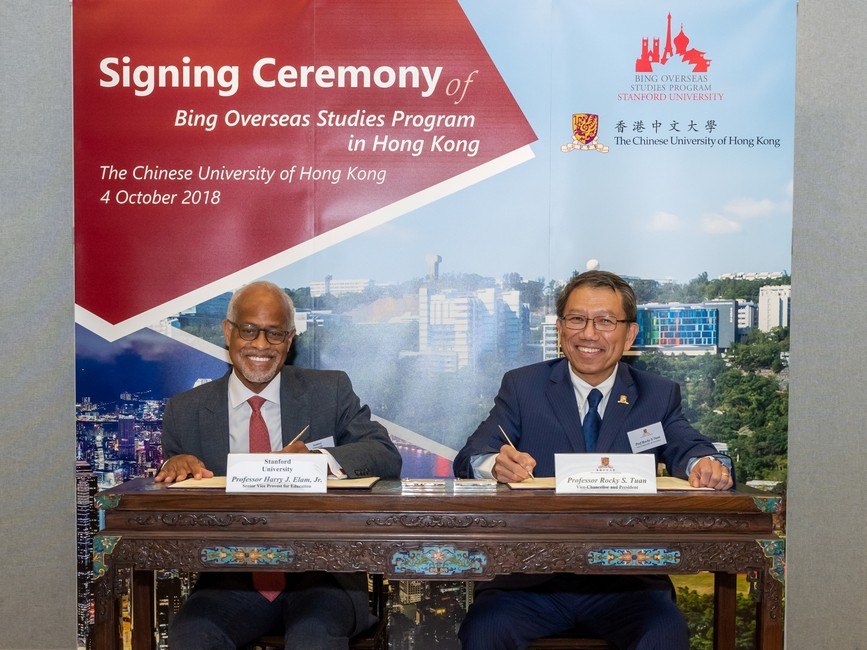 The Chinese University of Hong Kong (CUHK) will host Stanford University's (Stanford) Bing Overseas Studies Program (BOSP) in Hong Kong from fall 2019. It will be the only programme under BOSP held in the Greater China Region. A delegation led by Professor Harry Elam, Senior Vice Provost for Education, Vice President for the Arts, Freeman-Thornton Vice Provost for Undergraduate Education, and the Olive H. Palmer Professor in Humanities of Stanford visited CUHK on 4 October 2018 and joined Professor Rocky S. Tuan, Vice-Chancellor and President of CUHK in an Agreement Signing Ceremony on campus to mark the beginning of this milestone collaboration. 
BOSP offers Stanford undergraduate students opportunities for short-term study at a number of selected overseas destinations, including Florence, Kyoto and Oxford, among others. The programme at each destination is designed to provide an immersive academic and cultural experience for its students with a goal to achieve cultural literacy and enhance international perspectives. 
The newly launched BOSP Hong Kong Program will be hosted at CUHK and is expected to receive its first cohort of around 20 Stanford students in September 2019. Students joining the Hong Kong Program will enroll in challenging academic courses currently offered at CUHK, as well as tailor-made courses taught by either CUHK or visiting Stanford academics. Classroom learning will be complemented with field trips and excursions around Hong Kong and in mainland China, together with cultural and extra-curricular activities to enrich students' understanding of Chinese culture and immerse them in the local community. 
The multicultural atmosphere at CUHK provides an outstanding and interactive platform for Stanford students to learn about Chinese culture and connect with Asia and the world.  Professor Tuan said, "We are delighted to announce CUHK's partnership with the Bing Overseas Studies Program of Stanford University, and are excited to welcome Stanford students to CUHK. They will enjoy being immersed in our multicultural and interdisciplinary learning environment. At the same time, CUHK students will also have an excellent opportunity to exchange knowledge and cultural values with Stanford students. This important and prestigious partnership is a testimony to CUHK's teaching excellence and our extensive experience in international education." 
Professor Elam expressed, "This is a wonderful opportunity for Stanford University to partner productively with a truly great university, The Chinese University of Hong Kong. Our students will live together and learn from each other as they study in Hong Kong, one of the most vibrant and exciting cities in the world. The programme will be of mutual benefit to both schools and we look forward to beginning and building a long relationship." 
With a mission to combine tradition with modernity, and to bring together China and the West, CUHK has extensive experience in hosting international students and offering opportunities for CUHK students to study abroad. CUHK has a multicultural learning environment to cultivate young minds with global perspectives and develop them into tomorrow's global citizens. International students studying at CUHK are provided with strong academic offerings and culturally immersive programmes. They can take advantage of the University's wealth of experience and resources in Mainland, Asia and international studies. Annually around 6,000 CUHK students undertake study abroad and other learning opportunities worldwide. With the BOSP Hong Kong Program at CUHK, the University has set a new milestone in its continuous engagement in international education that will add vigour to its already diverse and vibrant multicultural campus.