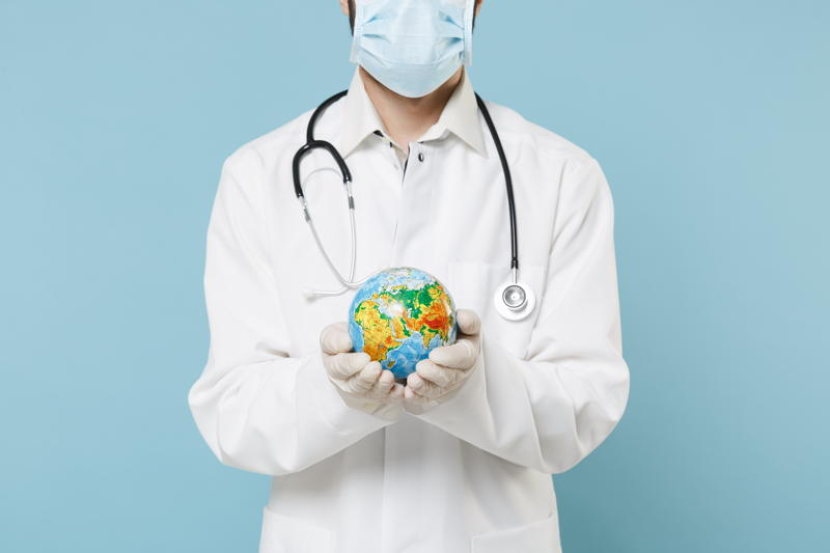 SUMMARY
The inVIVO Planetary Health network, which has its origins in a 2012 WUN Research Development Fund grant, pursues positive change that reflect the link between people and place. In a November 2020 publication in The Lancet, researchers from inVIVO appealed for health professionals to pledge their dedication 'to the service of humanity, and to the protection of natural systems on which human health depends.'
We asked experts around the Worldwide Universities Network for their perspectives on the pledge and its effort to expand the interpretation of 'first do no harm' to reflect human connections to the planet.
STORY
The global research network known as inVIVO Planetary Health began in 2012 as a WUN Interdisciplinary Research Group exploring immune dysregulation and inflammatory non-communicable diseases (at that time called inFLAME). Now including over 250 members, their work aims to promote the vitality of human and natural systems—an objective that reflects their understanding of planetary health as the interconnectedness of personal wellbeing and place.
In a November 2020 publication in The Lancet, researchers from inVIVO published a pledge for planetary health, intended for health professionals to affirm their commitment to 'a vision of personal, community, and planetary health that will enable the diversity of life on our planet to thrive now and in the future.'
With Susan Prescott (University of Western Australia) and Nicole Redvers (University of North Dakota) among the co-authors, the paper's lead author is Katharina-Jaqueline Wabnitz (University of Cambridge). The pledge initiative mirrors and channels inVIVO's ten planetary health principles, requiring health professionals to promote behaviours that support human and environmental health, advocate for equality and justice, respect diverse knowledge systems, and strive to be a role model for others.
The pledge and its call for engagement and debate among health professionals and institutions have sparked a conversation across the WUN. Below we share some of the reflections from experts in planetary health, environmental health and resilience, informed by their diverse geographical, cultural and disciplinary perspectives.
Is a planetary health commitment relevant and important?
Everyone agreed that the initiative responded to an urgent imperative. Nanne de Vries (Maastricht University) highlighted that 'The careless and often irresponsible exploitation of the earth's resources has many effects on health, far beyond COVID-19 and other zoonoses, toxic environments and the like.' He welcomed the emphasis on social and ecological justice, which connects the pledge to the underlying objectives of the Sustainable Development Goals (SDGs).
Respiratory scientist Cecilie Svanes (University of Bergen), who is one of ten directors of the inVIVO network also drew attention to equality as a factor in health attainment: 'I believe planetary health, in interaction with social equality, are both needed to achieve human health in the long term, and that lifting up these aspects in the knowledge and habits of health professionals is key to sustainable human health.'
'Addressing the different SDGs related to the state and health of the environment and people, requires different disciplines, sectors and approaches,' argued Richard Mugambe (Makerere University), who researchers environmental determinants of health. He saw the pledge's interdisciplinary conception of planetary health as 'valid, timely, and in line with the one health approach, which requires a multidisciplinary and multi-sectoral collaborative approach to planetary health.'
What challenges might the pledge face?
The scale of the problem can inhibit action. Epidemiologist Anita Kozyrskyj (University of Alberta), who is also a director of the inVIVO network, explained how 'patients often continue to experience "dis-ease" or an imbalance of their wellness despite having their condition/symptoms treated using state-of-the-art biomedical technology' and 'many of us are starting to feel anxious over the future of the planet as we see the ill effects of global warming and plastic disposal on ourselves, and helpless plants and animals.'
Some experts highlighted potential challenges deriving from a perceived tension between the inclusive approach to epistemology in the pledge and the methods that have dominated the development of medical knowledge to date, at least in the short term. Others considered that the relatively long list of commitments might reduce the pledge's uptake in formal and ceremonial settings, despite its focus on pro-active roles and positions that a wide range of health professionals can adopt.
Does it empower action?
Huey-Jen Jenny Su (President of National Cheng Kung University), saw education and training of health professionals as an important conduit for planetary health awareness, 'Health professionals have long been nurtured with a central value to support total wellbeing, factors attributable to sustaining health are ever more interconnected with the dynamically changing earth system'. Implemented in contextually appropriate ways, the pledge offers a framework through which this could be achieved. Su suggests that an 'interdisciplinary practice and holistic approach' could provide an 'ultimate paradigm to cultivating future health care professionals'.
There was also a desire to see the pledge have an impact beyond the health sector. Kozyrskyj described it as 'a critical first step for trusted members of our society to lead by example and to adopt into daily practice the tenets of doing no harm to the earth.' Recognising the roles of academia and industry, WUN researchers argued that the embrace of the fundamental principle of the interconnectedness of planet and people in other sectors will be crucial to the multifaceted collaboration required to achieve change. 
— 
The WUN partner institutions for the inVIVO Planetary Health network are University of Alberta, University of Bergen, University of Cape Town, the Chinese University of Hong Kong, Maastricht University, University of Massachusetts Amherst, University of Southampton and the University of Western Australia. For more information see their WUN page.