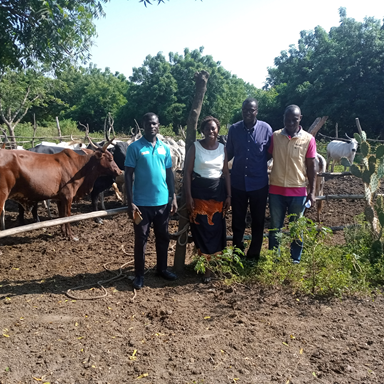 Climate change, population increase, land degradation and increasing urbanisation are the greatest threats to global food security, particularly in ODA countries, and particularly in Sub-Saharan Africa, and increasing the efficiency of food production and distribution is essential in ensuring a resilient food supply.
The dairy sector in most ODA countries is dominated by smallholder/subsistence farms (SSFs), crucial for rural communities in alleviating poverty and reducing wealth and gender inequalities. However, it is recognised that dairy production by SSFs severely underperforms, by perhaps as much as 50%. In Ghana, for instance, this contributes to per capita milk consumption 1/10th that of developed countries, and a national cost of milk imports of $80 million.
Research aimed at improving productivity has been severely hampered by the small scale and variability in SSFs resulting in poor quality data collection with many uncontrolled variables. In order to overcome deficiencies in resources and distribution infrastructure, many ODA countries have organised their SSFs into dairy cooperatives, however, these are extremely variable in their effectiveness, with milk wastage rates over 25% in some cases.
The objectives of this project are to define and share best practice in the organisation and management of SSF cooperatives across three ODA countries, ultimately to be rolled out to many more with further funding, and to assess the feasibility of utilising SSF cooperatives as "farm units" for data collection in research aimed at defining optimal livestock management.
WUN has supported the Global Farm Platform (GFP), a network of institutions and research farms across 6 continents. Concentrating on large-scale, well-instrumented farms, the GFP under-represents SSF farming which predominates in ODA countries, and therefore by extension does not properly account for livestock production in these countries. A further objective is to include dairy cooperatives as "farm platforms", building the GFP capacity to include farms in the poorest and most vulnerable areas.
Outcomes
In 2019
Scholarly events
Smallholder dairy cooperatives performance and management in Malawi, Lilongwe University of Agriculture and Natural Resources, Lilongwe Malawi – 20 September 2019
Smallholder Dairy Systems in Ghana, University of Ghana, 3 December 2019
Smallholder Dairy Systems in ODA countries, University of Nairobi, Kenya, 24 February 2020
Other
Three exchange field research visits have been organised involving early career researchers from LUANAR (Malawi), University of Ghana, University of Nairobi, each lasted one week.
There are plans to publish underway, along with the design of a follow-up study, and consider the possibility of adopting a smallholder dairy cooperative(s) as a farm platform to add to the WUN-initialized Global Farm Platform.
Who's involved
Prof. John Tarlton, University of Bristol
Prof. Mark Eisler, University of Bristol
Prof. Michael Lee, University of Bristol
Dr Taro Takahashi, University of Bristol
Prof. George Karuoya Gitau, University of Nairobi
Prof. Frederick Obese, University of Ghana
Prof. Graeme Martin, University of Western Australia
Dr Amin Muger, University of Western Australia
Dr Fay Rola-Rubzen, University of Western Australia
Dr Deepa Ananth, Kerala Veterinary and Animal Science University
Dr Iain Wright, International Livestock Research Institute