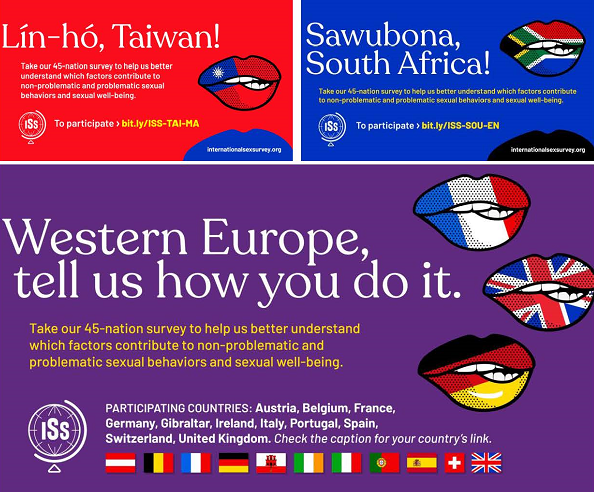 Healthy sexuality is essential for well-being. However, different cultures may possess different sexual behaviours and attitudes towards sexuality. For example, people living in collectivistic cultures, compared to those living in individualistic cultures, may have lower levels of acceptance of casual sexual relationships because they worry about social norms or being stigmatized. However, the current literature has little evidence regarding sexual behaviours across countries (Gola & Potenza, 2018), and how these sexual behaviours might be associated with sexual health outcomes (e.g., sexual distress) across cultures. Investigating sexual behaviours and sexuality across cultures helps healthcare providers and policy makers promote healthy sexuality. Investigating sexual behaviours during the COVID-19 pandemic provides information how COVID-19 impacts on people's sexual behaviours, sexuality, and health. Having cross-culture studies extends and shares knowledge of sexuality-related issues during COVID-19 pandemic.
This study is a subproject of the International Sex Survey (ISS), a project including 45 countries, to address the following specific aims: (1) to understand sexual behaviours and their relationship with health in four regions, i.e., South Africa, Switzerland, Taiwan, and Canada; and (2) to understand how COVID-19 might impact on sexuality. As this study includes data on sensitive topics, we will not plan to make all datasets from this study publicly available. However, the PI and Co-Is may provide data upon request. Questionnaires' psychometric properties will be examined to ensure the validity and reliability of findings. Descriptive statistics will be used to understand sexuality in each region and how COVID-19 may be related to sexuality. Structural equation modelling will then be used to understand the specific associations between sexuality and health and well-being in different cultures.
This project will create an interdisciplinary team of allied health, psychology, medical, social scientists and researchers from different institutions of South Africa, Switzerland, Taiwan, and Canada with affiliated institutions to develop proper sexuality-related measures to understand and manage healthy sexuality. This interdisciplinary team will contribute to the project and to the project network with evidence in healthy sexuality, given that it is a key factor that facilitates and improves human beings' well-being such partnerships will integrate the results on sexuality issues from different countries and cultures. Assembling a team drawn from WUN researchers and practitioners from a range of WUN regions, including Africa (South Africa), Europe (Switzerland), Asia (Taiwan), and North America (Canada), will add to knowledge and practices and permit new insights to promote healthy sexuality during the COVID-19 pandemic.
Furthermore, the project findings and gained experience can be implemented in policies to promote healthy sexuality (e.g., policy in protecting the job opportunities for LGBTQ+), which can further enhance societal resilience in the future. Furthermore, the interdisciplinary team on this project has extensive experience in international collaborations and has previously participated in multi-cultural research and teaching. Therefore, the project is well-established and will be able to facilitate the creation of wider networks of experts.