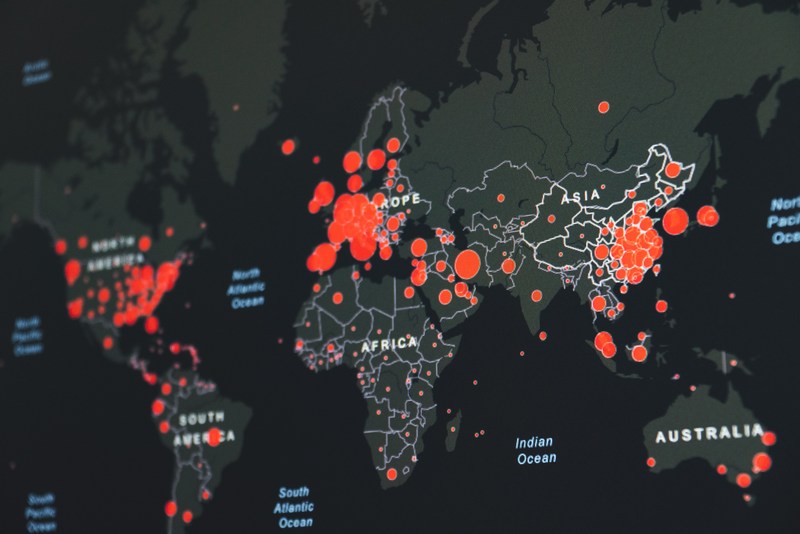 Photo: Martin Sanchez via Unsplash
The broad objective of this RDF-funded research project is to consider ways in which the dynamics of public health and economic development might be brought into closer equilibrium in combating future pandemics and other global challenges.
The RISIN research team has been put together to study the effects of the pandemic from many disciplinary angles and in multiple countries: Ghana, Uganda, Ethiopia, and South Africa, with comparative work in Norway.
A common finding in the plethora of reports produced since the onset of the pandemic is that no one developing state has managed the impact of the pandemic without problems, but some have performed better than others in saving lives and in preserving their economies.
Considering this, it is believed that there is much that can be learnt from a research project which collates and analyses the ways in which selected states have responded to the pandemic and how this has impacted the health and welfare of different segments of society within them.
Since the project will be looking into the nexus between a healthy population and a healthy economy, it is envisaged that the research will encompass three domains, namely those relating to:
Political and administrative systems
Public Health
Social-Economy
The research will analyse the ways in which the pandemic has impacted activities and relationships in each of these domains in the countries under review and assess the manner in which their governments have responded to the challenge and to what effect. A particular focus will be on distilling the lessons learned from the different state responses and on identifying measures that might be introduced to strengthen their capacity to manage future pandemics and other natural disasters. It is also intended that the research will serve to strengthen North-South linkages in ongoing efforts to develop integrated responses to what are increasingly global threats to all nations.
The 2020 WUN Research Development Fund theme of 'Sustainable Recovery' fits well with the goal of this project. The project is also well aligned with the SDGs 3, 10, 11, and 17 and also aligns well with sub-goals and indicators of several SDGs, thus cutting across health, education, inequality, sustainable cities, cooperation, and others.
The COVID-19 pandemic was something very few saw coming, and most countries in the world were unprepared for the effects and implications of it. A large number of countries tried to curb the pandemic by closing businesses, social life, schools, and universities and asking millions of people to work from home using digital tools to stay in touch with colleagues.
Hospitals and health enterprises suddenly faced something they had never expected or planned for: thousands of patients arriving in need of emergency and intensive care. The aim is to compare mitigation strategies and effects on public health and society and to design larger research proposals that may provide science-based advice for future pandemics.
In the first half of 2021, some countries are looking forward to recovery, while some are deep in the second or third wave. It's now important to evaluate and try to understand the implications of what was done, how it was done, and why some countries chose to do things differently.
Why do some countries appear to have been more successful than others in combating the COVID-19 pandemic?
The project aims to publicize policy advice, as well as to form a consortium that may explore other funding opportunities and work together on drafting grant applications that are multi-disciplinary, involving all consortium members.
The teams will conduct all meetings, planned at monthly intervals throughout 2021, digitally, before a possible Corona-depended workshop will be held at the University of the Western Cape in South Africa in late 2021 (November/December).
Who's involved
Professor Tor Halvorsen, University of Bergen
Dr. Tore Sætersdal, University of Bergen
Professor Karen Marie Moland, University of Bergen
Professor Astrid Blystad, University of Bergen
Prof David Sam, University of Bergen
Dr. Franklin Glozah, University of Ghana, Department of Social and Behavioral Sciences
Dr. Ronald Semyalo, Makerere University
Professor Christopher Tapscott, University of the Western Cape