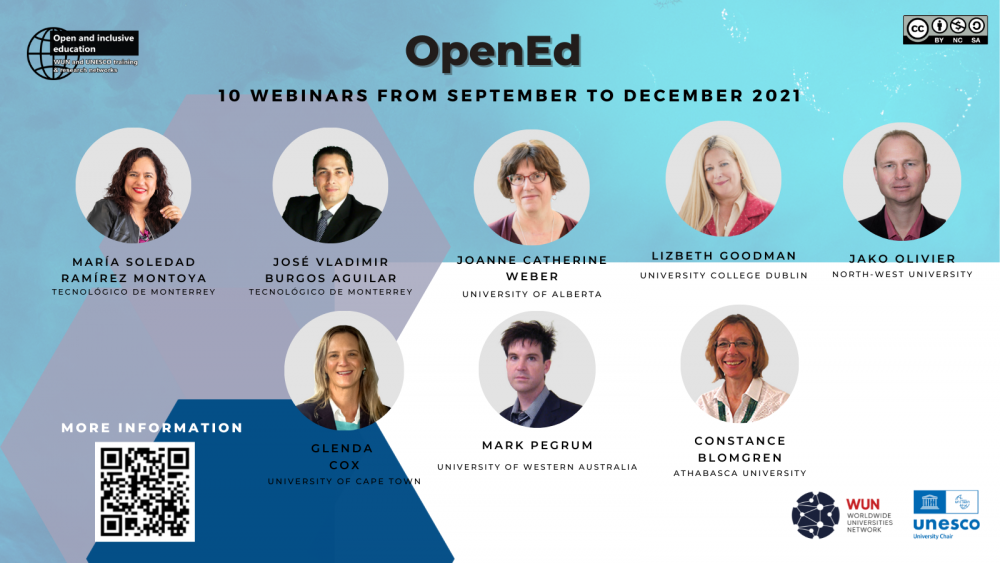 The OpenEd project brings together members of the WUN network and UNESCO/ICDE coordinators, united by the initiative to expand the potential of open education. It will expand collaborative networks with actors in formal, non-formal and informal education, in global interaction for the development of the regions.
The project seeks to contribute to education and the reduction of inequalities through the use and dissemination of open education resources (OER) to strategic actors in the academic community and society in general.
The purpose is to provide open online education to mitigate the effects of the Covid-19 contingency by establishing strategic relationships with WUN members and UNESCO chairs involved in open education, which will enable the design and implementation of webinars that will support the dissemination of open educational resources and practices and explain the social consequences of Covid-19 in populations that have been most affected by the pandemic.
The sustainability and scalability of the project will be achieved through the promotion of the development of proposals to acquire funds in a collaborative manner, encouraging the creation of sustainability models for the OER. Fostering the creation of sustainability models for OER: Support the creation of sustainability models for open education, at national, regional and institutional levels, as well as the planning and pilot testing of new sustainable forms of education and learning.
The project is directly related to the UNESCO Chair / ICDE 2021 "Open Educational Movement for Latin America", where the participants of the WUN project will be able to link with the international stay UNESCO 2021 of the Tecnológico de Monterrey.
Visit the project website for more information.