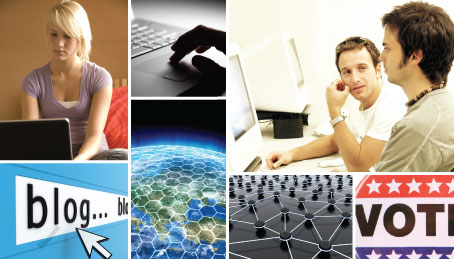 The WUN Networking Young Citizens Study Group comprises a number of scholars dedicated to understanding and developing civic engagement and learning in youth online environments.
The broad aims of the study group are:
To explore the contemporary political and civic engagement of networked young citizens both within and beyond their own societies. Our investigations are shaped by how wider social and cultural factors of globalization, individualization and social media influence the political attitudes, values and behaviour of young people. The scope of our research interest includes 'unconventional' political engagement (social movements, connective action, protest), changing political norms, the rise of smaller political parties, celebrity politics, identity and consumer politics, austerity social conditions, rising social inequalities, political socialization and civic education.
The Civic Network project
A two year comparative research project was launched in 2012 with a USD$312,000 grant from the Spencer Foundation to examine the potential influence of social media upon the political values and behaviour of young people in the UK, Australia and the USA. Ariadne Vromen (PI – University of Sydney) worked with Brian Loader (University of York) and Mike Xenos (University of Wisconsin-Madison) to investigate whether new attitudes and styles of politics are manifesting themselves through the use of social media by young citizens. The research team are all members of the Networking Young Citizens study group.
Who's involved
Mr Brian Loader, University of York
Dr Nathan Manning, University of York
Professor Ian Davies, University of York
Associate Professor Ariadne Vromen, University of Sydney
Professor Stephen Coleman, University of Leeds
Professor David Denemark, University of Western Australia
Professor Lance Bennett, University of Washington
Professor Dhavan Shah, University of Wisconsin-Madison
Professor Michael Xenos, University of Wisconsin-Madison
Dr Chris Wells, University of Wisconsin-Madison
Dr Kjerstin Thorsen, University of Southern California
Professor William Eveland, Ohio State University
Dr Mike McDevitt, University of Denver
Dr Leticia Bode, Georgetown University
Dr Stephanie Edgerley, Northwestern University
Professor Erik Amna, Örebro University
Dr Deen Freelon, Georgetown University
Professor Mats Ekstrom, University of Gothenburg
Dr Parveen Akhtar, Unversity of Bradford
Dr Henrik Bang, University of Copenhagen
Dr Egle Celiesiene, Social Communication Institute
Dr Thierry Desrues, Institute for Advanced Social Studies
Dr Kathy Edwards, RMIT
Professor Daniel Faas, Trinity College Dublin
Alice Mattoni, Centre on Social Movement Studies
Donatella della Porta, Centre on Social Movement Studies
Lorenzo Mosca, Scuola Normale Superiore
Anne Muxel, SciencesPo
Liza Tsaliki, Athens University
Anna Przybyiska, University of Warsaw