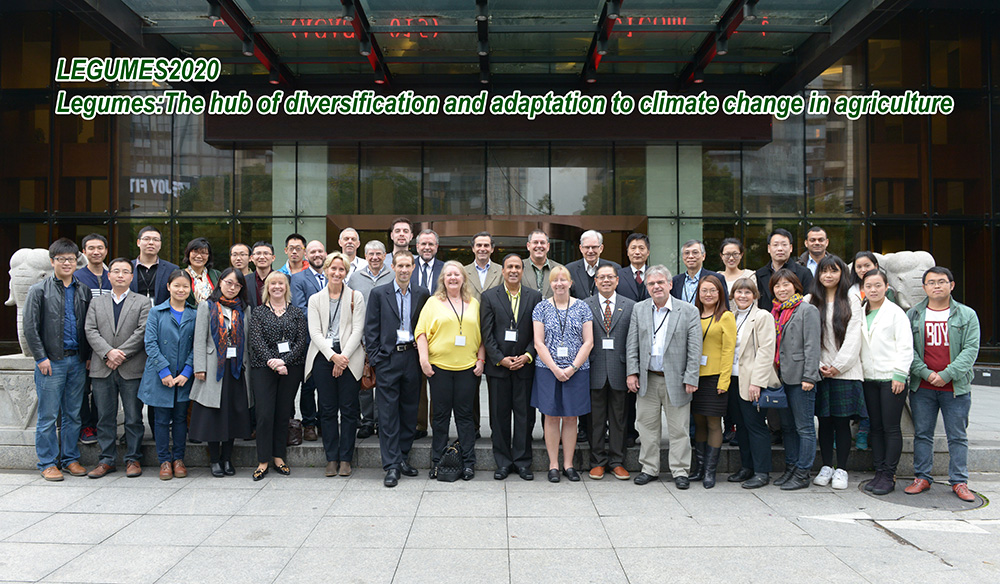 "…diversification of crops with legumes and other practical measures must be scaled up to end hunger while meeting the challenge of climate change."   UN Secretary-General Ban Ki-moon
The global population will run out of food unless science can generate sufficient new crops that bear resilience to the current and increasing yield limitations of temperature extremes, water availability and salt tolerance and nutrient efficiency. In short, we need a third food revolution, to succeed the 'industrial revolution' and 'green revolution', which sustained the massive population growth since the 1920s to date.
Against these challenges, research on grain legumes has been neglected despite the wide genetic resources available that can meet future food, fodder, environmental and biofuel demands in the face of the global climate challenges.
In November 2015, a three-day meeting was held at Zhejiang University to:
Define the knowledge-gaps in capturing legume genetic diversity for sustainable food crops.
Define the state-of-the-art to address legume crop improvement towards 2050.
Identify champions who will lead grant proposals in Horizon 2020 and similar programs that will fund large scale collaborative programs.
Establish a program of short-term exchanges, particularly of early-career researchers, between laboratories in order to maximise technology and knowledge transfer.
View the Legumes 2020 program.
The meeting resulted in a policy document aimed at impacting global food security policy.
Watch a video of the Legumes 2020 meeting.
The research group are establishing ongoing activities.
Publication cited in the "top five" publications can be found here.
UNFAO International Year of Pulses.
Who's involved
Professor Jocelyn Ozga, University of Alberta
Professor Hon-Ming Lam, The Chinese University of Hong Kong
Professor Christine Foyer, University of Leeds
Ms Louise Heery, University of Leeds
Mr James Cooper, University of Leeds
Professor Helen Bramley, University of Sydney
Dr Michael Considine, University of Western Australia
Professor Tim Colmer, University of Western Australia
Professor Kaddambot Siddiqui, University of Western Australia
Professor Trevor Mori, University of Western Australia
Professor Wallace Cowling, University of Western Australia
Associate Professor Judy Berman, University of Western Australia
Dr Jonathan M. Hodgson, University of Western Australia
Executive Vice-President Yonghua Song, Zhejiang University
Professor Mark Wahlqvist, Zhejiang Universty
Professor Jingquan Yu, Zhejiang University
Professor Yan Liang, Zhejiang University
Dr Henry T. Nguyen, University of Missouri
Rajeev K. Varshney, International Crops Research Institute for the Semi-Arid Tropics (ICRISAT)
Anthony J. Miller, John Innes Centre
Professor Karl Kunert, University of Pretoria
Dr Juan Vorster, University of Pretoria
Dr Christopher Cullis, Case Western Reserve University
Huixia Shou, Zhejiang University
Dr Nandor Fodor, University of Leeds
Associate Professor Brent N. Kaiser, University of Sydney
Research Associate Fuk-Ling Wong, Chinese University of Hong Kong
Dr Babu Valliyodan, University of Missouri