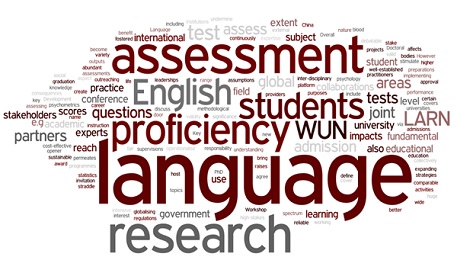 As a well-established, but highly debatable, global practice, universities use international students' English language proficiency level as one of the most important admission criteria. The students' English language test scores then become a gatekeeper or door opener for them. However, there are abundant cases of mismatches between students' English language proficiency and their academic performance, which raises a host of fundamental questions that have been continuously challenging the field of language assessment:
What do we assess? What do we mean by language proficiency? What kind of language proficiency is required for academic study? How do we define and operationalise language proficiency in tests?
How to assess in a reliable, valid, cost-effective and fair way? To what extent do intensive test preparations undermine the validity of tests? To what extent are the commonly used language tests comparable?
Why do we assess? What are the underlying assumptions and philosophies of assessing international students' English language proficiency for admission purposes? What are the educational, political and social impacts or consequences of the use of English test scores? What are the implications of asking students to reach certain English language proficiency level before graduation (e.g. in Hong Kong)?
WUN institutions not only have a stake and interest, but also responsibility, in better understanding the assessment of English language proficiency because "language" permeates and affects every aspect of the globalising higher education and impacts high-stakes decision making (e.g. student admissions).
Language assessment covers a wide variety of research areas and is interdisciplinary by nature, which requires expertise in linguistics, statistics, psychology, psychometrics, human learning and instruction, and assessment technologies, just to name a few. The LARN team cover a huge range of research areas, traditions and outreach in language assessment, with scholarly outputs that straddle the methodological spectrum.
Aims and Objectives
In addition to implementing joint research projects, we envisage collaborations in outreaching to language assessment practitioners and stakeholders, building and expanding research capacity of WUN partners via staff and student research mobility programmes, joint PhD supervisions (subject to the respective university degree award regulations), and a joint taught doctoral programme in language assessment (to be based in China, subject to the approval of government regulatory bodies).
Doctoral students are the lifeblood of research. They will be included and links will be fostered between students at the WUN partners who are working on similar assessment topics. Early career researchers will benefit from the network by being able to access experts in the field and from the identification of cutting-edge research questions.
Overall, it is our vision that LARN will create a sustainable global "learning" platform for the partners to creatively and collectively address the three fundamental questions of what, how and why in language assessments that have global significance and reach.