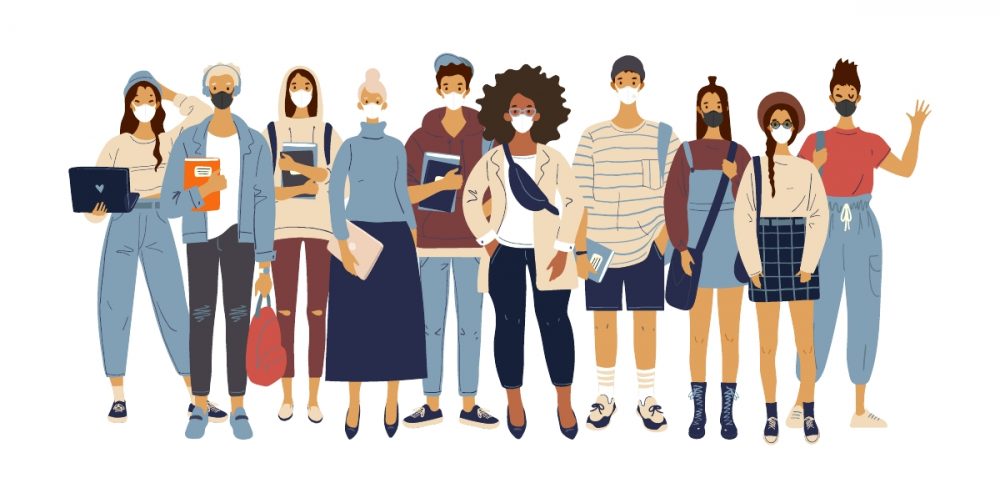 Young people are facing devastating health and social impact of the COVID-19 pandemic during their critical developmental period. However, their health and well-being are often neglected and superseded by other immediate considerations over the pandemic control and the economy. As the UN Inter-agency Network on Youth Development emphasizes, sustainable recovery from COVID-19 is possible only if young people are reached and included.
Identifying the health and social conditions that are most severely affected by the pandemic among young people across the socioeconomic ladder will inform targeted public health interventions in mitigating inequalities induced by the pandemic.
Building a strong international alliance via this project could allow cross-country comparison on how different social contexts and mitigation measures affect the health and social conditions of young people, and also arouse policy attention to respond to the crisis through engagement, empowerment, and resilience-building of our younger generations.
For each country involved in this project, we will conduct cross-sectional surveys to examine:
the association between socioeconomic position (SEP) and psychosocial health and well-being among secondary school students; and
whether SEP affects psychosocial health and well-being through COVID-19-related social conditions (i.e. a mediation analysis).
By doing so, we will gain a better understanding of the impacts of COVID-19 on health and social inequalities among young people and explore how and why the situations differ across the world.
Findings from each participating university will be gathered for a comparative study and disseminated in an online symposium and education seminar. Our findings will help foster knowledge and expertise exchange, promote sustainable and equitable recovery from COVID-19, and facilitate capacity building and development of policies and actions for better preparedness for the next potential worldwide catastrophe.
Who's involved
Prof. Hung Wong, Associate Director, CUHK Institute of Health Equity, The Chinese University of Hong Kong
Prof. Roger Chung, Associate Director, CUHK Institute of Health Equity, The Chinese University of Hong Kong
Prof. Eng-Kiong Yeoh, Co-Director, CUHK Institute of Health Equity, The Chinese University of Hong Kong
Prof. Jean Woo, Co-Director, CUHK Institute of Health Equity, The Chinese University of Hong Kong
Prof. Michael Marmot, Co-Director, CUHK Institute of Health Equity, The Chinese University of Hong Kong
Prof. Ji-Kang Chen, Associate Professor, Department of Social Work, The Chinese University of Hong Kong
Prof. Esther Sui-chu Ho, Professor, Department of Educational Administration and Policy, The Chinese University of Hong Kong
Dr. Siu Ming Chan, Postdoctoral Fellow, CUHK Institute of Health Equity, The Chinese University of Hong Kong
Dr. Gary Chung, Postdoctoral Fellow, CUHK Institute of Health Equity, The Chinese University of Hong Kong
Prof. How-Ran Guo, Department of Environmental & Occupational Health, National Cheng Kung University
Prof. Hans Bosma, Professor, School for Public Health & Primary Care, Maastricht University
Prof. Karlijn Massar, Assistant Professor, Department of Work & Social Psychology, Maastricht University
Prof. Susan Morton, Professor, Centre for Longitudinal Research – He Ara ki Mua, The University of Auckland
Prof. Nathan Hughes, Professor, Department of Sociological Studies, The University of Sheffield
Prof. David Gordon, Professor, School for Policy Studies, University of Bristol
Prof. Richard Watermeyer, Professor, School of Education, University of Bristol
Prof. Ian Barron, Professor, Center for International Education, University of Massachusetts Amherst
Dr. Xiaoting Liu, Associate Professor, School of Public Affairs, Zhejiang University
Prof. Arijit Nandi, Associate Professor & Canada Research Chair in Political Economy of Health, Department of Epidemiology, Biostatisics & Occupational Health, McGill University
Prof. Jody Heymann, Distinguished Professor, Fielding School of Public Health, UCLA