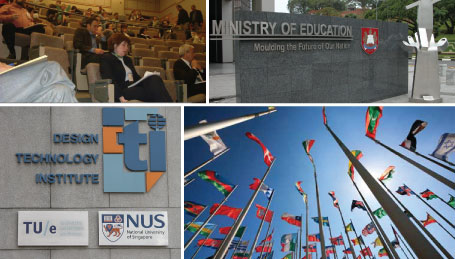 Policies related to the reform of higher education systems worldwide are increasingly being driven by ambitions to facilitate and strengthen knowledge economies and societies. Two aspects of this broad development agenda are the emergence of supra-national, regional-scale higher education visions, policies, programs (which generate distinctive mobility patterns), and new forms of experimental inter-regional relationship building.
Driven by unfolding economic, political, cultural and demographic logics, these geo-strategic shifts reflect:
changes in directional flows of students, academics, and knowledge;
new counter-hegemonic projects; and
the use of higher education as a form of 'soft power' and 'public diplomacy'.
This project examines the emergence of new forms of region-building and inter-regional relations around the globe, as they are imagined and governed through innovative forms of higher education at the supra-national scale (cf. Bolivarian Alliance for the Peoples of Our Latin America (ALBA), European Higher Education Area (EHEA), EU-Asia Higher Education Platform, Brisbane Communiqué initiative, Pan-African University, University of Central Asia). Given our policy expertise, we are also examining associated governance dynamics in association with these forms of global regionalism.
Project Scope
This project is guided by the following questions:
how and why are 'regional' and inter-regional projects being imagined and governed?
what kinds of technologies are mobilised in the constitution and governance of higher education in these regions/interregional relations?
what new forms of mobility are prioritised in these higher education projects, and what are their cultural, economic, political and social implications?
whose interests/projects/politics are being advanced, what new configurations of power are being produced, and what are their citizenship and social justice implications?
how and in what ways do these developments alter the existing conditions for the production of knowledge?
what new conceptual, empirical and methodological challenges are being generated in these developments for the study of higher education and state-society-economy relations?
Blog
Our blog GlobalHigherEd tracks developments and shares insights on the construction of new globalized knowledge/spaces.
Conferences
Globalising Geographies of Higher Education and Research, University of Bristol, 1-3 February, 2012
Comparative and International Education Societies Conference, 'Global Regionalisms, Governance and Higher Education', Chicago, 1-5 March 2010
American Association of Geographers, 'EU, Regulatory Regionalisms and Higher Education', Washington, 14-18 April 2010
11th World Congress on Comparative Education Societies, 'EU-Latin American Regionalisms and Higher Education', University of Bogazici, Istanbul, 14-18 June 2010
European Education Research Association Conference, 'Globalising Europe through Education: Knowledge, Power and the New Imperialism?', 25-27 August 2010, Helsinki, Finland
Publications
A. Gomes, S. Robertson & I.R. Dale, 'Globalising and Regionalising Higher Education in Latin America: Locating Brazil in Multi-scalar Projects and Politics', in Higher Education in the Global Age (Routledge, 2013).
S. Robertson, and K. Olds, World University Rankings: On the New Arts of Governing (Quality) (Centre for Globalisation, Education and Societies, University of Bristol, 2012).
S. Robertson, 'EU, Regulatory state regionalism and new modes of higher education governance', Globalisation, Societies and Education 8:1 (2010), pp. 23-38 (Special Issue: Regulatory Regionalism and Higher Education).
P. Jones, 'Regulatory regionalism and education: the European Union in Central Asia', Globalisation, Societies and Education 8:1 (2010), pp. 59-86, (Special Issue: Regulatory Regionalism and Higher Education).
Teaching