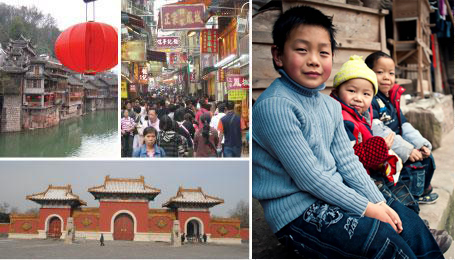 The WUN Global China Group (GCG) has been identified as one of WUN's Cross-Cutting themes. These themes intersect with all four Global Challenges and are seen as vital to understanding and addressing them. Cross-Cutting themes are selected based on identifed research strengths across WUN.
The group brings together the significant expertise and resources in contemporary China studies from across the Worldwide Universities Network in a two-way understanding of and engagement with China. The main focus of the GCG is understanding China's social and economic development with sub themes in:
cultural change and economic development
food security
climate change
public health
higher education.
The GCG's program serves as a bridge between Chinese and Western thought to provide a global perspective on the world's most populous nation. The GCG takes an interdisciplinary approach to China and incorporates the research strengths that exist in WUN across Chinese economy, society, social policy, politics, history, anthropology, literature, visual and performing arts, and religion to offer a broad view of China – both in terms of how China sees the world and how the world sees China.
Building upon the work of its predecessor, the WUN Contemporary China Centre, the GCG is developing strong linkages with government, NGOs and industry as well as with leading academic partners beyond the network to serve as a key knowledge partner on contemporary issues facing China and the world.
The WUN Global China Group Strategic Plan 2015-17 outlines the objectives and strategies for the Global China Group.
Read articles related to WUN's Global China Group
Steering Group
Professor Fanny Cheung, The Chinese University of Hong Kong
Professor Gordon Houlden, The University of Alberta
Ms Jia Wang, The University of Alberta
Professor Hans Hendrischke, The University of Sydney
Who's involved
The Chinese University of Hong Kong: Prof. Fanny Cheung, Pro-Vice-Chancellor
WUN: Dr. Peter Lennie, Executive Director
Maastricht University: Prof. Harry Steinbusch, China Advisor and Emeritus Professor
Renmin University of China: Prof. XU Qinhua, Professor, School of International Studies
The University of Sheffield: Dr. Lucy Zhao, Senior Lecturer in Chinese Studies, School of East Asian Studies
The University of Sydney: Prof. Hans Hendrischke, Professor of Chinese Business and Management, Business School
University of Alberta: Ms. Jia Wang, Deputy Director, China Institute
University of Alberta: Prof. Gordon Houlden, Director
University of Bristol: Prof. Robert Bickers, Professor of History, Department of History
University of Cape Town: Prof. Susan Kidson, Institute of Infectious Disease and Molecular Medicine
University of Leeds: Prof. Hai-Sui Yu, Deputy Vice-Chancellor: International
University of Rochester: Prof. John Osburg, Associate Professor, Department of Anthropology
University of Southampton: Prof. Sabu Padmadas, Professor of Demography and Global Health, Centre for Global Health, Population, Poverty and Policy
University of York: Dr. Jon Howlett, Senior Lecturer, Department of History
Zhejiang University: Prof. Dong Hengjin, Professor, School of Medicine
Zhejiang University: Prof. LIN Ka, Professor, School of Public Affairs
Zhejiang University: Prof. Xu Xiaozhou, Dean, College of Education)