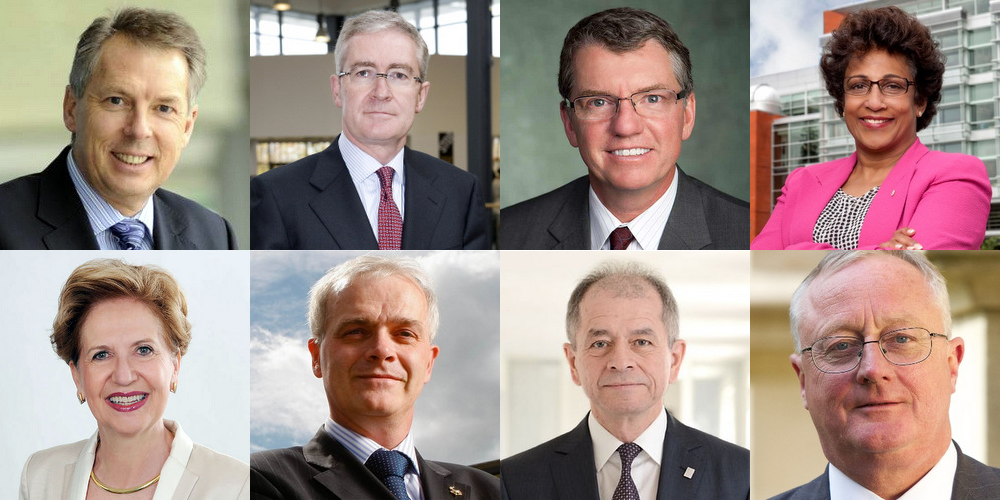 From left to right: Professor Don Nutbeam, Professor Hugh Brady, Dr David Turpin, Dr Indira Samarasekera, Professor Dr. Dr. h.c. Andrea Schenker-Wicki, Sir Christopher Snowden, Dr Antonio Loprieno, Sir Eric Thomas.
In the coming months, WUN will see considerable transition in its Partnership Board, with leading figures that have helped shape WUN over the last ten years moving on from their respective universities. WUN thanks these individuals for their dedicated service and wishes them the best of luck in their future endeavours. We also look forward to welcoming their successors and continuing to build on mutual strengths.
WUN Executive Director John Hearn said: "WUN University Presidents are nationally and globally influential, in addition to their major contributions to the network. We thank and salute these colleagues and friends who are leaving or joining WUN universities. On behalf of all of us in WUN, I wish them success and happiness in their futures."
Following a decade as President, Dr Indira Samarasekera will move on from the University of Alberta to join the University of British Columbia's Liu Institute for Global Issues as a Distinguished Fellow in Residence. Dr Samarasekera, who is a distinguished metallurgical engineer, served as Chair of the WUN Partnership Board from 2012 to 2014.
"As Chair of WUN, I really enjoyed having the opportunity to meet with presidential colleagues from around the world and discuss issues with them, issues of global concern. I have witnessed WUN emerge as a leading international network of universities around the world. Thanks to the efforts of so many, WUN is now well-positioned to solve global research challenges."
Dr Samarasekera will be succeeded by Dr David Turpin, a highly respected Professor of Biology. He served as President of the University of Victoria from 2000 to 2013, as well as Vice President (Academic) at Queen's University from 1995 to 2000. Dr Turpin will begin his term on 1 July.
Sir Eric Thomas, who has served as Vice Chancellor of the University of Bristol since 2003, will also be moving on from his post to lead the Russell Group institution. Since 2001, Sir Eric has played an integral role in the development of WUN, serving twice as Chair from 2003 to 2007. He said the network has both exceeded his expectations and fundamentally changed the higher education and research landscape.
"In 2001, six UK Vice-Chancellors and five US university Presidents met in a small hotel room in Washington, and from their discussions WUN grew. It has since become a leading global network, enabling important research and new collaborations that would simply not have happened otherwise. WUN has brought together universities with different histories and operations from different parts of the world to learn both from each other and together. WUN has far exceeded all of our expectations, and it is now hard to think of our sector without it."
Sir Thomas will be succeeded by Professor Hugh Brady, Professor of Medicine and Healthcare Strategy. He is also President Emeritus at University College Dublin (UCD), where he served as President from 2004 to 2013. Professor Brady will begin his term on 1 September.
Having served as Vice Chancellor for six years, Professor Don Nutbeam will also move on from the University of Southampton. An internationally renowned expert on public health, Professor Nutbeam played a particularly vital role in advancing WUN's Global Challenge of Public Health throughout the course of his tenure. He will be succeeded by Sir Christopher Snowden, a distinguished engineer with wide experience in the international microwave and semiconductor industry. Sir Christopher is currently the President and Vice Chancellor of the University of Surrey, as well as President of Universities UK. He will begin his term on 1 October.
Finally, Professor Dr Antonio Loprieno, a Professor of Egyptology, will move on from his post as Rector of the University of Basel after 10 years. Dr Loprieno recently played a vital role in bringing Basel into the network and represented the university for the first time at the WUN Conference & AGM in Hong Kong. He will be succeeded by Professor Dr. Dr. h.c. Andrea Schenker-Wicki, a Professor of Business Administration who served as Vice Rector of the University of Zurich from 2012 to 2014. Professor Schenker-Wicki will begin her term on 1 August.
For more information, please contact:
Nicholas Haskins   
WUN General Manager   
T: +61 2 9036 7219   
E: nhaskins@wun.ac.uk