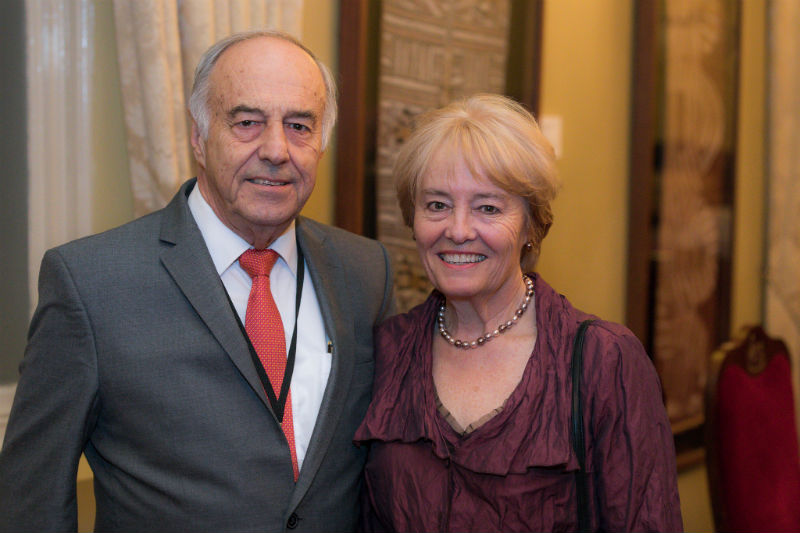 Photo: WUN's Executive Director John 'Higher Education And Research Networks' HEARN and his wife Margaret Hearn
The Worldwide Universities Network (WUN) paid tribute to its Executive Director (ED) Professor John Hearn, after nine years of exemplary service, and as he moves on to fresh scholarly and advisory-role challenges. On 24 May during the WUN conference dinner at Government House in Perth, delegates at WUN's annual conference and other distinguished guests honoured Professor Hearn, who will complete his service with WUN on 31 July 2018, having served as the network's Executive Director since 1 July 2009.
Vice-chancellor of the University of Cape Town (UCT) in South Africa, Dr Max Price, praised Professor Hearn for being a dedicated internationalist, who 'plays at the top tables in international teamwork', including the international agencies and governments.
He said that when Professor Hearn commenced his leadership of WUN in 2009 (around the same time UCT joined the network), 'it had felt very much like an Anglo-American club – with five UK members, four North American members and a few others, and none from most regions of the world.
'One of John's lasting legacies will be how he changed WUN to make it truly worldwide, with 23 universities on six continents, and with its members now spanning China, South Africa, Ghana, Brazil, Kenya, Mexico, the Netherlands and more.'
Passionate about the importance of research
Professor Hearn is a reproductive and developmental physiologist, with 220 research publications and edited six books in reproduction and fertility, stem cell biology and biotechnology. He has held a wide variety of academic posts throughout his significant academic career, including being Professor (now emeritus) of Reproductive Physiology in the School of Medical Sciences at the University of Sydney since 2004, and Chairman of the Australia Africa Universities Network since 2011. 
His life prior to WUN had equipped him to be the perfect fit in leading WUN, said Dr Price. Having been awarded his PhD from the Australian National University (ANU), he served over the next 35 years in leading research, teaching and administrative positions at the Universities of Edinburgh, London UCL, Wisconsin, ANU and Sydney – about six to seven years at each. Through this work as an academic, teacher and researcher he acquired in-depth experience and understanding of the universities and the higher education systems in England, Scotland, Australia and the USA.
Professor Hearn was also Vice President (Research) at ANU 2000 to 2004, Australia's leading research university, and then from 2004 to 2013, he was Vice President (Academic and International) at Sydney from 2004 to 2013. Throughout all, he continued to teach first year and advanced students in science and biomedicine, and to conduct his own research.
'There can be no question that John is someone who believes passionately in the importance of research, and through his vice-president positions over 14 years, understands the ecosystem that is required to promote the highest level of research in universities,' Dr Price said.
This experience aided Professor Hearn in overseeing a 'real focussing' of the network's resources on defined research themes (WUN's four Global Challenges) and to build defined internal funding schemes. He also initiated the Research Development Fund – a strategic approach to promoting collaboration and focus – and which helped seed more than £16.6M catalyzed by WUN collaborations in 2017–2018.
'World citizen and wild rover'
 Nick Haskins, a former General Manager of WUN, cited Professor Hearn's world citizenship and its relevance to his role with WUN.
'John's life and career have seen him live and work on every continent – born in India, raised in Kenya, schooled in England, university studies in Ireland, his career then took him to Australia, the US, Brazil, China, Scotland and more.
'He's worked with pandas in China, monkeys in Brazil, and with elephants and Margaret Thatcher in England (as Director of Science at the  Zoological Society of London he took the British PM on an official tour). One might argue there are few so qualified to have run a global university network.'
Dr Price said Professor Hearn's global vision was fuelled by work he'd done globally in research capacity development – especially in China, India, Thailand, Kenya and Brazil. He was also the chairperson of the Sydney Confucius Institute and been a senior adviser to the Australian Government, World Health Organisation, British Council and the OECD.
He had worked with seven chairs of WUN's Partnership Board and, thanks to his leadership, the WUN Conference and AGM had also grown in size and stature to match the network's ambitions and thirst for collaboration among its partners. 
Dr Price said one of Professor Hearn's bolder decisions was to persist with the conferencel and AGM in Maastricht, in the Netherlands, just after the Brussels bombing of 2016 – a decision which led to a memorable dawn ride from Maastricht to Brussels for the Presidents Forum.
Sheelagh Douglas, who had been Professor Hearn's executive assistant for nine years, recalled his passion for teaching, his punishing schedule, and a penchant for breaking into song. One of his favourite tunes had been 'I've Been a Wild Rover', she said, and, touched by the night's tributes, the 'wild rover' (John) sang a cappella, and encouraged the guests at Government House to sing along.
'WUN is the god of small things'
Professor Hearn made a moving speech in which he praised WUN's researchers, coordinators and governance groups for their enthusiasm, goodwill and commitment. He also thanked UWA for hosting WUN's 2018 Conference and affirmed his gratitude for Secretariat staff and colleagues for their tireless teamwork.
With his wife Margaret beside him onstage (photo), Professor Hearn said he is.a very fortunate man. He has a wonderful wife and 50 year marriage, five children and nine grandchildren. He has enjoyed great colleagues and friends around the world, with a varied and successful academic career in which he has taught and mentored many excellent students. The privilege of leading WUN and its global teams over the past nine years was a highlight and an opportunity to contribute to enduring education and research diplomacy. Mostly, he was proud of the chance to create career opportunities for emerging and established researchers to go global.
'WUN is the god of small things,' Professor Hearn said, 'insofar as it takes seemingly small seeds and uses them to foster academic excellence and innovative research initiatives of international significance.
'After 12 years with WUN and nine as its Executive Director, I am proud to be leaving the network in such good heart, good shape and moving into good hands.' 
– John Hearn concludes his work as WUN's Executive Director on 31 July 2018. Secretariat staff Dr Mike Hasenmueller, A/Prof Grace Liu and Ms Marije Nieuwenhuis will continue in their roles for a further interim period, ensuring a strong and smooth transition.