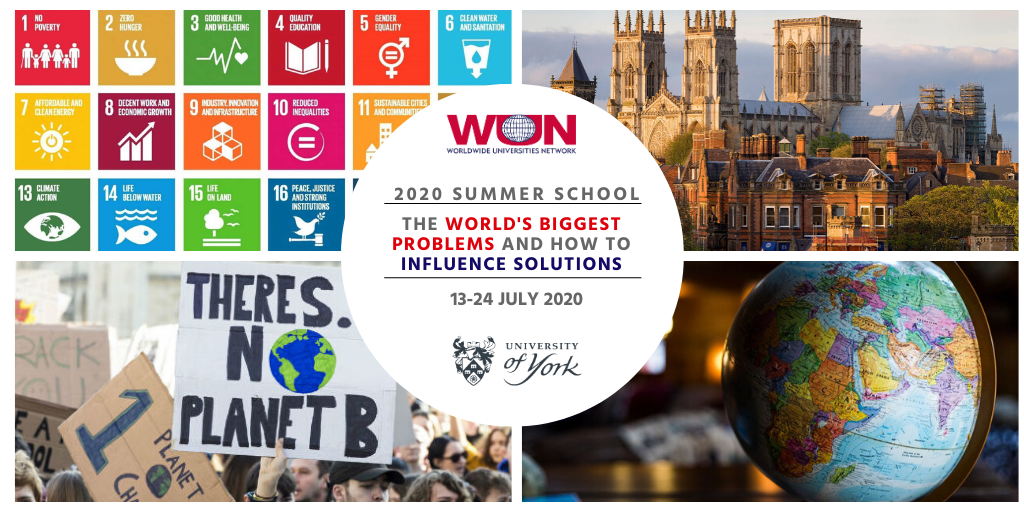 UPDATE: The WUN Summer School, originally scheduled for July 2020, has been postponed to 2021 due to covid-19 developments.  The information and application website will be re-opened for the 2021 program in due course. 
As a member university of the Worldwide Universities Network (WUN) your students may be aware of the ground-breaking research that your institution is doing to support the United Nations Sustainable Development Goals.  This course has been designed to give students of WUN universities an opportunity to collaborate through learning about the challenges that academics across the world unite to tackle. The aim of the course is to help students appreciate the complexities of global challenges and gain an understanding of how academics from a range of disciplines – spanning the sciences, social sciences, arts, and humanities – are working together to find solutions.
Designed for aspiring leaders, this course will help students develop the skills required to help lead and influence institutions to respond to the Sustainable Development Goals, whether their career aspirations lie in academia, policymaking and multilateral organisations, or the private sector.
Key information:
Date: 2021 Date TBC
Location: University of York, UK
Eligibility: This summer school is open to students of WUN partners and is suitable for students in their penultimate year of studies.