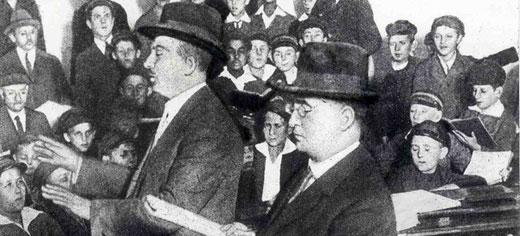 A major international research project led by the University of Leeds has attracted significant funding from the AHRC to shine new light on forgotten works by Jewish artists.
Performing the Jewish Archive has been awarded £1,534,076 by the Arts and Humanities Research Council (AHRC) under its Care for the Future: Thinking Forward Through the Past theme.
Led by Dr Stephen Muir of the University's School of Music, Performing the Jewish Archive will bring recently rediscovered musical, theatrical and literary works by Jewish artists back to the attention of scholars and the public, and stimulate the creation of new works.
A multidisciplinary team across four continents will focus on the years 1880-1950 – an intense period of Jewish displacement – to explore the role of art in such upheaval.
Dr Muir's recent work has drawn upon musical archives of Russian and Polish Jewish composers who found their way to South Africa through various processes of displacement and migration.
Performing the Jewish Archive stems from several projects with colleagues in both the University and Leeds College of Music.
Dr Muir said: "All this work has built up a great deal of momentum at the University of Leeds, paving the way for this large grant. The time seems to be right for us to become a leading centre for the study of Jewish arts, and responses to experiences of repression, exile and displacement.
"It's also a great opportunity for scholars from a variety of disciplines to take a fresh look at what archives are, how they function, and how they might best be used in modern society."
The AHRC today announced two other large grants under its Care for the Future theme, which aims to generate new understanding of the relationship between the past and the future, as well as the challenges and opportunities of the present.
Professor Andrew Thompson, its Theme Leadership Fellow for the Care for the Future theme, said: "These awards promise to develop ambitious, transformative research agendas in their fields, and to build fruitful relationships with a variety of partner organisations. I look forward to seeing these projects develop from strong concepts to beacons for the Care for the Future theme."
The three year Performing the Jewish Archive project will involve a large number of partners, exploring archives, delivering community and educational projects, holding at least two international conferences and a series of symposia at the British Library, as well as mounting five international performance festivals – in the USA, Czech Republic, South Africa, Australia and Yorkshire.
Dr Muir added: "We are a unique combination of scholars from a diverse range of subjects, crossing traditional disciplinary boundaries – even integrating scientific research methodologies at the heart of an arts-led investigation.
"We seem to have caught the imagination of a huge range of organisations – both Jewish and non-Jewish – all interested in the Jewish artistic past and how it impinges on all of our futures."
Further information
Dr Muir is joined by Co-Investigators Dr Helen Finch, School of Languages, Cultures and Societies, University of Leeds; Dr Lisa Peschel, Film, Theatre and Television, University of York; Dr Nick Barraclough, Psychology, University of York; Dr Teryl Dobbs, Chair of Music Education, University of Wisconsin-Madison; Dr Joseph Toltz, Sydney Conservatorium, University of Sydney; Dr David Fligg, Leeds College of Music.
For interviews with Dr Stephen Muir, contact University of Leeds press office via pressoffice@leeds.ac.uk or 0113 343 4031.
For details of the Care for the Future theme, see www.ahrc.ac.uk/Funding-Opportunities/Research-funding/Themes/Care-for-the-Future/Pages/Care-for-the-Future.aspx
Photo: The choir of the Tłomackie Synagogue, Warsaw, c.1929. Directed by David Ajzensztadt (left). Source: Yivo Institute for Jewish Research.
---