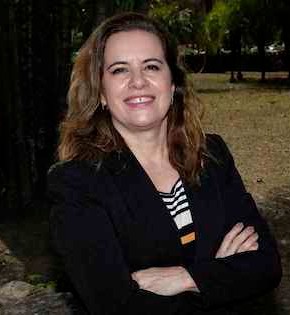 Sandra Regina Goulart Almeida is the President of Universidade Federal de Minas Gerais (UFMG), Brazil since 2018. She was UFMG Vice-President from 2014 to 2018 and Dean for International Affairs from 2002 to 2006. She is a Professor of English and Comparative Literatures at UFMG and a fellow researcher from the Brazilian funding agency CNPq. She has a degree in Letters from UFMG, holds a Masters in Literature from the University of North Carolina in Chapel Hill, a PhD from the same institution (1994), and a post-doctorate in Comparative Literature from Columbia University in New York.
Professor Almeida was the Deputy Coordinator for the Letters and Linguistics area of the Evaluation and Funding agency CAPES (2011-2014), Secretary of the National Association of Graduate Studies and Research in Letters and Linguistics – ANPOLL (2008-2010), Coordinator of the UFMG Centre for Indian Studies (2008-2010), President of the Brazilian Association of Canadian Studies (2001-2003) and Head of the Department of English and German Languages and Literature (1998-2000).
Professor Almeida coordinates the Commission for International Relations from the Association of Federal University Presidents (ANDIFES). She is a member of the Board of Trustees of the state funding agency FAPEMIG, of the Economic and Social Development Council of the Minas Gerais Government, and of the Advisory Board of the Presidency of the Legislative Assembly of Minas Gerais. She was honoured with the Great Inconfidence Medal, the João Guimarães Rosa medal, and the Great Medal of the Legislative Assembly, among other honorary awards. She is an Honorary Citizen of Belo Horizonte, granted by the City Council.