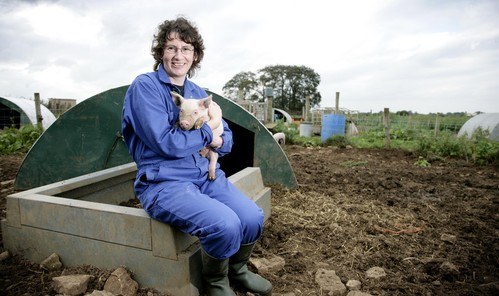 Photo: Professor Helen Miller
A new government and industry-backed £70million livestock innovation centre has been launched, supported by University of Leeds investment.
Bringing together the food industry and researchers, the government has awarded £27.7 million to set up Centre of Innovation Excellence in Livestock (CIELivestock).
It aims to transform the productivity of the UK livestock industry by providing a "one-stop-shop" to drive innovation.
The University of Leeds investment has been match-funded by government, giving a total of £7m to help develop its specialist pig research facility. Funding from other industry and research institutions makes up the £70 million.
Developing feeding systems to improve animal health, performance and quality in a sustainable manner, the University's research facility has already succeeded in developing specialised diets for pigs, which feed up to 40% of the UK pig population.
The new investment will expand the University's current research and facilities, providing 300 additional indoor places for sows in state-of-the-art accommodation, including sensor technology for animal performance, welfare and feed quality evaluation.
Professor Helen Miller, Professor of Animal Bioscience and Director of Leeds University Farms, said: "This is much needed investment to help livestock producers and food manufacturers be more effective, sustainable and innovative. It's about ensuring that the livestock industry has access to world-class research and facilities, and ensuring we support them in helping deliver better food quality and farming systems."
Speaking at the launch of the centre, CIEL's Interim chief operating officer, Sam Hoste, said: "CIEL's objective is to increase the economic performance of UK farming and associated industries by £12 for each £1 spent in research.
"By bringing together the best research in areas such as breeding, animal health, biotechnology, feeding and genomics, the centre will create a state of the art, one-stop-shop for the industry."
The University's expertise in this area draws on over 50 years of cutting-edge thinking in all areas of food research, which brings together researchers in agriculture, bioscience, environment, food, health, social science, engineering and big data computing.
From supporting sustainable agriculture with plant science and crop trials, through to providing the UK Government with its Champion for Global Food Security, the University is at the forefront of helping the agriculture sector and manufacturers tackle food challenges created and faced by a growing population.
CIEL is one of the government's four Agri-Tech centres and will be head-quartered at the National Agri-Food Innovation Campus near York. 
It will be hosting a day specifically for industry members in May 2016 and a wider industry conference in the Autumn. 
Details of these events and the Centre in general will be posted on the website: www.cielivestock.co.uk
Further information
For more information, contact the University of Leeds press office on pressoffice@leeds.ac.uk or call 0113 343 4031.
The universities of Leeds, Edinburgh (The Roslin Institute), Nottingham, Newcastle, Aberystwyth, Bristol, Queens (Belfast) and Harper Adams are receiving investment from CIEL, as well as the UK's leading research institutes including Rothamsted Research, the Agri-Food and Biosciences Institute Northern Ireland (AFBI), Scotland's Rural College (SRUC), Fera and Duchy College. 
CIEL will:
Provide the UK livestock sector with all of the research capability that it needs on its own doorstep through one entry point, so the industry does not have to go abroad to do work and/or wait for work done overseas to be translated for a UK market.
Provide an uplift in livestock productivity and exports for the UK and speed rates of innovation and discovery in livestock R&D
Encourage improvements in equipment, products and services, working with industry partners to translate new research outputs into practical and exploitable solutions
Encourage and support SME start-up businesses, who can deliver innovation with agility and timeliness
Increase the UK's productivity potential by translating research findings into improved food products and promoting best practice and training, using the industry and academic networks already embedded in CIEL
Work with industry and academia to provide succession solutions from undergraduate training to post graduate study, coaching the industry innovators and leaders of the future.