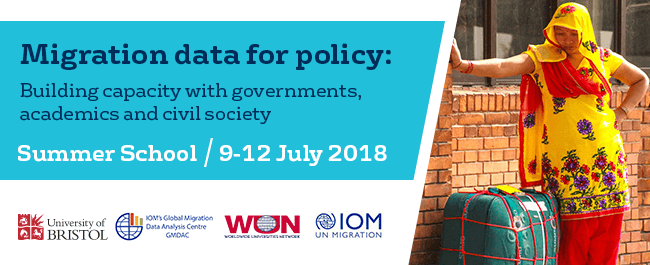 Theme: Migration data for policy: Building capacity with governments, academics and civil society.
Date: Monday 9 – Thursday 12 July 2018
Venue: Bristol Marriott Hotel City Centre
Migration Data for Policy – draft Summer School agenda (PDF, 490kB)
Book your place on the Summer School now via the University of Bristol website 
The Summer School on Migration Data for Policy is a new initiative of the International Organization for Migration's Global Migration Data Analysis Centre and the University of Bristol, building on the close collaboration already developed through the Worldwide Universities Network-IOM Strategic Alliance.
This Summer School on Migration Data for Policy, will be the first migration focused training dedicated to improving the quality, analysis and use of migration data for policy. It will bring together data experts, statisticians and officials, working closely with UNSD and UNPD, to provide dedicated training, education and knowledge exchange.
The Summer School will also pioneer the use of migration data training materials developed by IOM's GMDAC and will introduce participants to the wealth of resources available to support their work with IOM data, government and research data on migration.
Plenary panels
Panels will introduce key global challenges such as:
What is migration and why collect migration data for policy?
The Global Compact(s) and Migration Data at the Global Level
Migration and the 2030 Sustainable Development Agenda
Data on a key policy challenge: health and migration
Building national and regional migration information systems
Reporting migration trends for policy needs
Small group workshops
Join a workshop for training on: data collection methods; using administrative sources, migration data from censuses and surveys; developing regional capacity; knowledge exchange; analysis and reporting for policy.
Breakout sessions
There will be breakout sessions where we will discuss: 
Using census data for reporting on the SDGs
Understanding migration using survey data
Administrative data and their potential
Innovative data sources and approaches
Reporting and dissemination
Co-ordination, governance and partnerships
NGO and non-official data collection