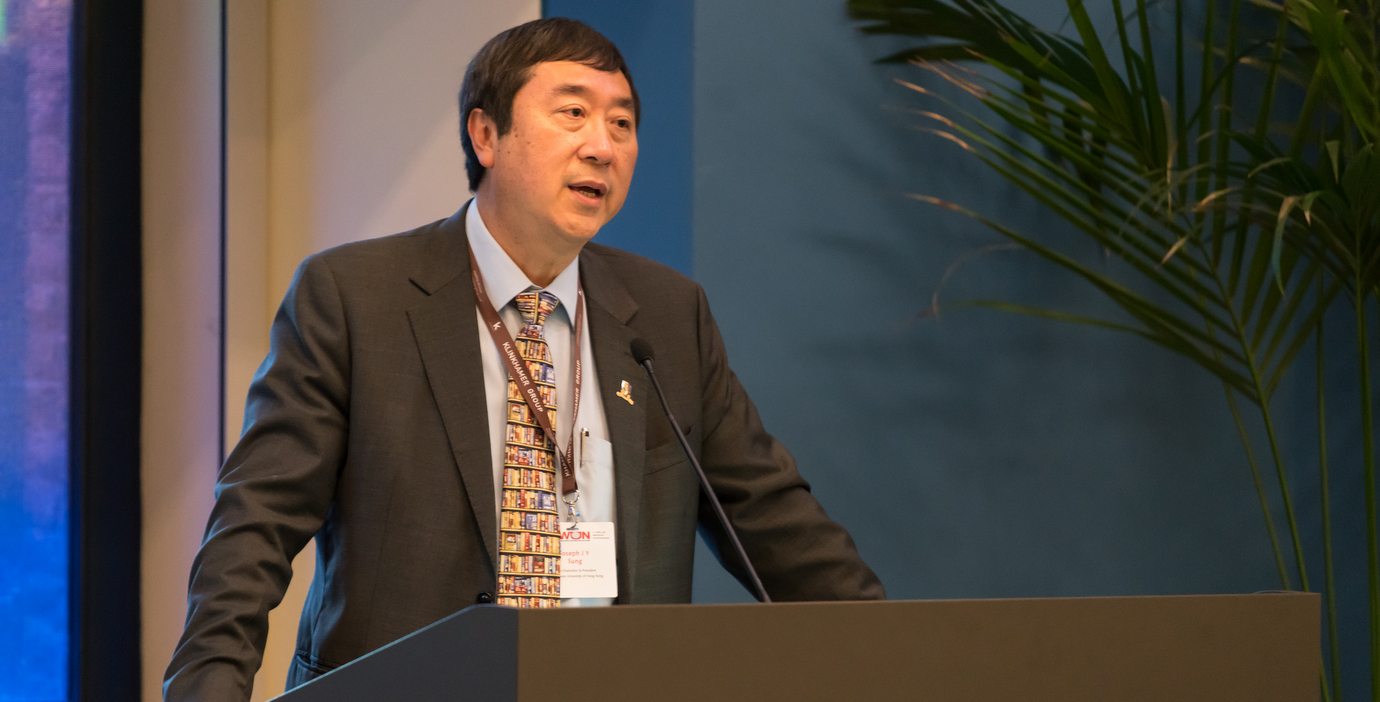 Prof. Joseph J.Y. Sung, Vice-Chancellor and President of The Chinese University of Hong Kong (CUHK), recently took the helm of the Worldwide Universities Network (WUN) as Chair of its Partnership Board, a role elected from among the presidents of member universities. WUN is a leading global higher education and research network comprising 18 research-intensive universities across 11 countries focusing on developing innovative solutions to the world's most significant challenges through international collaboration. CUHK joined the Network in 2011 as the only member university in Hong Kong. The University has since taken an active role in the Network, strengthening the University's internationalization efforts and building research capacity.
WUN fosters interdisciplinary research in four areas known as the Global Challenges, namely Global Higher Education and Research, Public Health (Non-Communicable Disease), Responding to Climate Change, and Understanding Cultures. At present, 46 CUHK researchers are involved in 35 research projects covering all four Global Challenges in collaboration with all WUN members. Of these, eight are led by CUHK in the areas of ageing, autism, climate change, humanities, forest conservation, migration, and water. CUHK has hosted a number of conferences and workshops and journal papers involving CUHK researchers resulted from projects of WUN have been produced.
As the new Chair of the Partnership Board, Professor Sung will join other members of this governing body to provide entrepreneurial leadership and set the strategic direction and vision of the Network. It is Professor Sung's vision that WUN will nurture research talents by taking part in important global issues and platforms, as well as fostering engagements from international funding bodies, policy agencies, and institutions from around the world to bring further innovation, energy, and added dimensions to its research and scholarship.
Professor Sung said, 'I'm humbly honoured to be entrusted with leading WUN in the coming two years. There are many organizations of universities or alliances in the world but WUN is unique because it places great emphasis on research. The four Global Challenges that WUN is focusing on are both scientific and humanistic. I look forward to working closely with all members to drive collaborations, promote mobility among our researchers, and create a greater presence on the global stage.'
There is also an active exchange of PhD students and faculty among the member universities of WUN through various research mobility schemes. From 2012 to 2015, over 70 PhD students and faculty members were exchanged with 10 WUN members. These exchanges have helped to build new relationships and consolidate existing collaborations.
'CUHK will play a key role in the Network by engaging more researchers in different collaborations and by providing scientific and scholarly expertise in the Global Challenges. We will contribute to topics with a China focus, especially in relation to the Belt and Road Initiative, and which would benefit from a Hong Kong, China, and Asia perspective,' Professor Sung said.