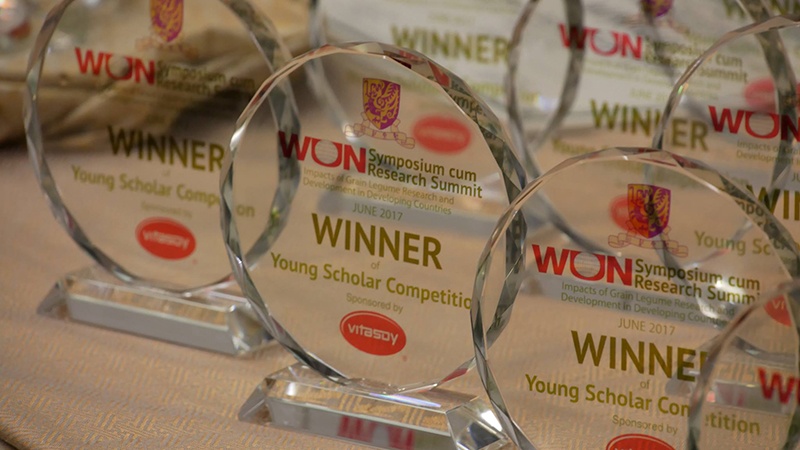 Over 100 participants from six continents participated in the WUN Symposium cum Research Summit on Impacts of Grain Legume Research and Development in Developing Countries held at The Chinese University of Hong Kong (CUHK) on 8-17 June 2017. The event was organized by Prof. Hon-ming Lam, Director of the Centre for Soybean Research, as part of his RDF-funded project. It comprised two parts: the first part being a Research Summit for early-career researchers with the aim of fostering a multi-perspective development and facilitating network building, and the second part being an International Symposium for high-level scientific exchange with the ultimate goal of formulating a blueprint for future development of legumes research. Prof. Lam said, "This event is a multi-disciplinary exchange where scientists from different areas come together with the aim of building an international, multi-level collaborative network to address the global food security risk with sustainable legume agriculture."
The event has participation from almost all collaborating universities, including the Universities of Alberta, Cape Town, Leeds, Massachusetts Amherst, Southampton, and Western Australia. In particular, Prof. Christine Foyer, University of Leeds, and Prof. Kadambot Siddique, The University of Western Australia were among the seven keynote speakers at the Symposium. During the Research Summit, a Young Scholar Competition was held where six groups of 53 young scientists competed for the best proposal for research/policy paper under the mentorship of senior researchers. The winning teams received a cash prize and will receive further support to pursue their proposed collaborations.
Ms. Rocio Gaudioso Pedraza, a PhD student at the University of Leeds remarked, "This Symposium is especially relevant for young scholars because it is an opportunity to meet with people from all around the world." Dr. Ashwil Klein, a lecturer from the University of Western Cape echoed the view, "You get exposed to the world leaders in the fields of plant science and legumes research. That gives you the platform to launch your own career and network with academics from all over the world." Dr. Klein believed that he can apply what he learned to his research programmes which would ultimately contribute to the sustainable food security for the global population.
Following this event, Prof. Hon-ming Lam, Prof. Christine Foyer, and Prof. Henry Nguyen of the University of Missouri will co-edit a special issue in Plant, Cell and Environment dedicated to legumes. A joint review will be written to discuss new perspectives of climate change and the role of legumes. More meetings and events will be organized to consolidate the research group's findings, paving way for larger-scale collaborations and joint grant applications in the future. 
Additional resources