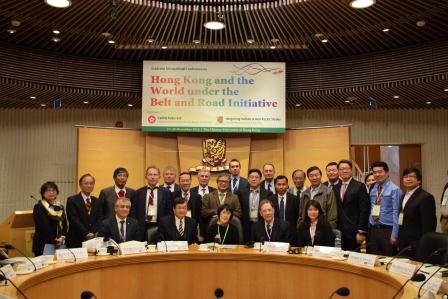 The Chinese University of Hong Kong (CUHK) recently launched the Global China Research Programme with the goal of understanding China's global presence and international relations, as well as the global reception of China's outward engagements. The Program was also a response to the Belt and Road Initiative which was unveiled by Chinese President Xi Jinping in 2013 aiming to promote regional connectivity, economic cooperation, cultural exchanges, and mutual learning among countries along two ancient economic corridors.
Convened by the co-directors of the Hong Kong Institute if Asia-Pacific Studies—Prof. Fanny Cheung, Pro-Vice-Chancellor, and Prof. Stephen Chiu of the Department of Sociology—the Program will look at several themes of research, including the Belt and Road Initiative as a driver for international cooperation; China's hard and soft power; Chinese diaspora; and last but not least, Hong Kong's roles and challenges in China's national development strategy. Scholars from different disciplines, such as business and economics, law, supply chain and logistics, cultural and religious studies, politics, psychology, and sociology, will be involved. A series of research endeavors have already been planned in the near future, including the Academia International Conference on Hong Kong and the World under the Belt and Road Initiative held at CUHK on 17-18 December 2015.
For further information and collaboration opportunities, please contact the WUN Coordinator at CUHK.