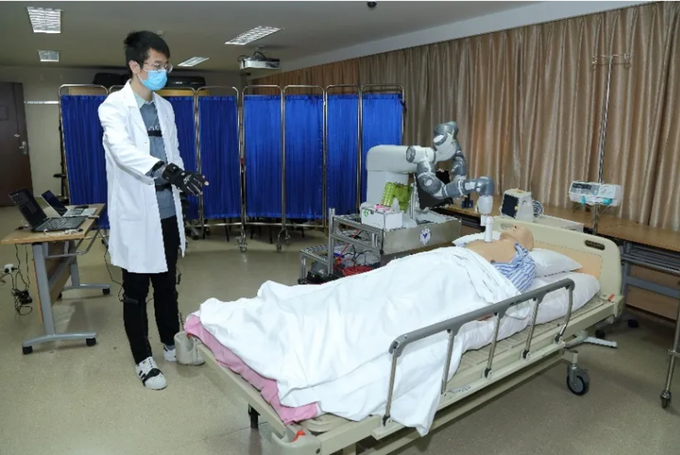 SUMMARY 
The novel coronavirus has created significant risks for healthcare workers in every country affected by the pandemic. In July, the World Health Organization announced that more than 10,000 health workers have been infected across the 40 African countries that have reported COVID-19 cases. By the end of the same month, the United States had at least 115,000 confirmed cases amongst health workers. To reduce infection rates inside hospital wards, a WUN-funded team led by Geng Yang (State Key Lab of Fluid Power & Mechatronic Systems, Zhejiang University) has pioneered a telerobotic system that uses wireless communication to allow doctors and nurses to treat patients through a 'carebot' on the ward. 
STORY 
COVID-19 infection rates amongst health workers have been extremely high. In Italy and Spain, it was estimated that 9 and 14 per cent respectively of frontline medical workers had been infected with the virus. Even in high-resourced settings, supplies of personal protective equipment (PPE) have been inadequate and clinics and hospitals have had to resort to repurposing single-use items.
To reduce the risk of transmission within hospitals, Geng Yang (State Key Lab of Fluid Power & Mechatronic Systems, Zhejiang University) is leading the development of a telerobotic system for remote-controlled care on isolation wards, supported by WUN's call for research responding to the pandemic. As Yang summarised, 'the key idea here is that we want to use the robot as the medical professional's second body.' Nurses and doctors will put on wearable sensors that can capture their movement, which is then communicated through wireless technology to a robot that mimics their actions. As outlined in the Chinese Journal of Mechanical Engineering (Yang et al 2020), consultations with health workers have determined the robot's functions, including the capacity to facilitate tele-consultations, deliver food or medicines, operate other medical instruments, and even disinfect the ward.
The team have a long-standing collaboration as 'partners who each have distinctive expertise and we merge that expertise together': in robotics and wearable devices at Zhejiang University, analytics and processing of data at the University of Sheffield, and communications technology at the University of Sydney. Trials in the remainder of 2020 will allow the team to refine their design with feedback from health care professionals and patients.
It is not only infection rates that measures to improve the safety of healthcare workers seek to address. As in other aspects of the COVID-19 pandemic, vulnerabilities are uneven and impacts multifaceted. In the UK, 60% of the first 200 health care workers to die from COVID-19 were from minority backgrounds. In outbreak locations, COVID-19 has meant dealing with additional physical and emotional demands at work while managing the risk of transmission to family. The long hours and high risk levels have negatively affected many medical professionals' mental health.
Robotics projects like the carebot constitute one element of the wider digital health agenda. Yang and his collaborators have coined the term 'Healthcare 4.0' to capture the application of innovative technologies from manufacturing to improve health care and services. They describe Healthcare 4.0 as 'a continuous but disruptive process of transformation of the entire healthcare value chain ranging from medicine and medical equipment production, hospital care, nonhospital care, healthcare logistics, healthy living environment to financial and social systems,' using technologies such as data analytics, artificial intelligence, and cloud computing (Yang et al 2018). 
While COVID-19 is their immediate concern, the carebot has potential uses for other infectious diseases. Yang said that nursing staff have gone 'from curious to excited once they know what the robot can do' and the team has been approached by industry and entrepreneurs keen to facilitate research and development and production. They hope that a second-generation carebot will be ready for early stages of production at the end of this year. 
—
Professor Geng Yang is Principal Investigator of the WUN project Isolation-Care Tele-Robotic System and its Efficient Utilization for the Prevention of Nosocomial Infection of COVID-19. Its WUN partner institutions are The University of Sheffield and Zhejiang University. For more information see their WUN page.