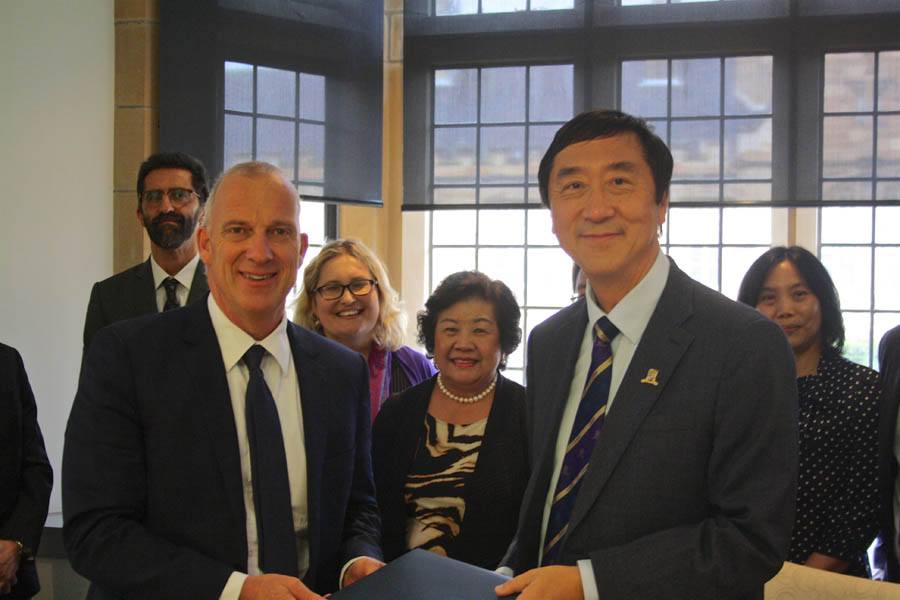 The Chinese University of Hong Kong (CUHK) and the University of Sydney (USyd) signed a MOU on 26 April 2017 in Sydney, Australia to establish the Analytic and Clinical Cooperative Laboratory for Integrative Medicine (ACCLAIM). The MOU was signed by the Vice-Chancellors of the two universities, Prof. Joseph Sung of CUHK and Dr. Michael Spence of USyd.
ACCLAIM serves as a platform for scientists and clinicians to share the best of information technology, data analysis, and clinical research for the advancement of evidence-based integrative medicine. The joint laboratory focuses on downstream applied clinical research, with translational deliverables and big-data applications in clinical trials, building on a good international collaboration network, including the China Academy of Chinese Medical Sciences, The University of Manchester, and Shanghai University of Traditional Chinese Medicine.
At the MOU signing ceremony, Prof. Joseph Sung remarked, 'The Chinese University is very pleased to set a new milestone in our collaboration with the University of Sydney. Building on our strong collaboration in integrative medicine, this partnership epitomizes interdisciplinary research and demonstrates how universities pull together people with complementary strengths to create synergy and make contributions to the world.'  
The first project of ACCLAIM focused on stroke with the aim of identifying a complementary mechanism of integrative medicine and effective treatment plans to improve patients' quality of life. Preliminary results hinted that stroke patients with integrative medicine treatment have better clinical outcomes. Studies on other diseases such as dementia, cancer and gastrointestinal disease are in the pipeline. 
CUHK is committed to developing interdisciplinary research that addresses global challenges and societal needs. The University started conducting Chinese medicine research in the early 70s, and has since been the pioneer and leader in this field in Hong Kong. It leads the Area of Excellence on Chinese Medicine Research and Further Development, and houses the State Key Laboratory of Phytochemistry and Plant Resources in West China (Partner Laboratory) which conducts research in the modernization of Chinese medicine and the application of biotechnology in medical science. 
Capitalizing on the strengths and expertise in Chinese medicine and western medicine, the Hong Kong Institute of Integrative Medicine was set up in 2014 to provide effective integrative treatment to benefit patients, and to advance the research, clinical, and educational development of integrative medicine.  Additionally, the Li Dak Sum Yip Yio Chin R&D Centre for Chinese Medicine was established in 2015 to engage in upstream laboratory research in Chinese medicine. The new joint laboratory will create synergy and complement research efforts among different research units in Chinese medicine, and will serve as a hub for international collaboration for big-data research in clinical and integrative medicine at CUHK. 
CUHK and USyd have long and close collaboration for many years. Apart from a research programme in integrative medicine, there is ongoing multi-faceted research collaborations in cardiology, diabetes, digital media, and psychology, in addition to active faculty and student mobility.
More news on USyd's website