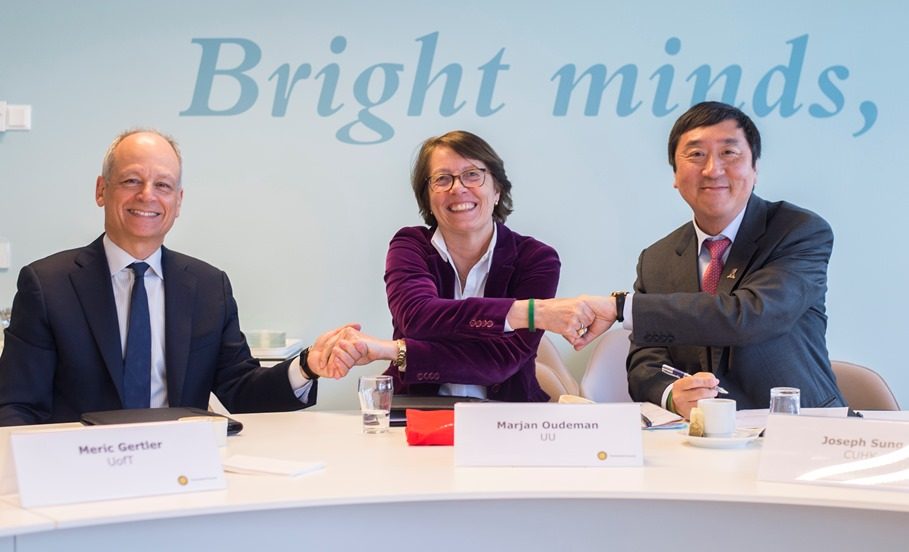 All over the world, more and more people are living in cities and urban issues have become increasingly pressing. Three universities from three different continents—The Chinese University of Hong Kong (CUHK), University of Toronto (UofT), and Utrecht University (UU)—have joined forces to work together on issues related to cities such as environmental health, the planning of future cities and migration, with a view to finding new and sustainable solutions for the global challenges caused by the growth of urban populations.
A meeting was recently convened at UU where the three university presidents—Prof. Joseph J.Y. Sung of CUHK, Prof. Meric Gertler of UofT, and Mrs. Marjan Oudeman of UU signed a MOU to facilitate educational and research collaborations in three areas of common interest: Public Health, Cities, and Migration. Researchers from the universities were also present to give presentations on their future plans.
On the Public Health front, the three universities will work together to measure and analyse the effect on health by studying how people live, work and interact with their physical and social environments using Big Data and novel investigative tools, such as a combination of sensors, wearables and statistical models. In the research area of Cities, there are plans to develop a global urban data platform, to examine urban transportation and mobility patterns, as well as to collaborate on cultural city studies, digital humanities, and environmental humanities. On the migration front, comparative studies will be undertaken on issues related to migrants and immigrants from the perspectives of Asia, Europe, and North America.
Professor Sung remarked on the partnership: 'We are pleased to have the opportunity to work with two of the top research universities in the world. Besides our distinctive yet complementary strengths, our geographic locations will allow us to bring in cross-national, multi-cultural perspectives to address some of the emerging challenges the world is facing today.'
During the visit to the Netherlands, the 'City Seminar: Cities, Science and Innovation—The International Context' was held at the Utrecht City Hall where the three university heads discussed factors which influence both the challenges and the solutions for future cities. These included university-government cooperation, future city design, and policy considerations. The seminar was officiated by the Mayor of Utrecht Mr. Jan van Zanen and attracted an audience of academics, graduate students, government officials, and diplomats.