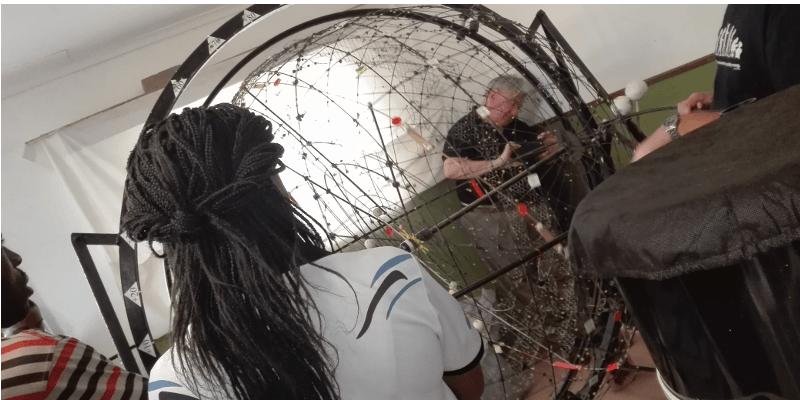 The University of Leeds has been ranked in the top three UK universities for global funding success, according to new data from Research Fortnight.
Awards from the Global Challenges Research Fund and the Newton Fund currently support 53 different projects at Leeds. These range from research to improve the quality of life for people in developing countries, to building communities, developing skills and tackling disease. They represent more than £36 million secured from the two funds by the University between 2014 and 2018.
Research Fortnight analysed 1,140 GCRF and Newton Fund grants awarded by the UK's research councils to compile the figures. By 2021, more than £2 billion of the government's overseas aid budget will have been channelled into research to benefit lower and middle-income countries through the two flagship funding schemes. With research strengths across a range of disciplines, Leeds is able to draw on novel combinations of expertise to apply for funding, and joins the University of Oxford and the London School of Hygiene and Tropical Medicine in the top three.
Effective relationships
Professor Lisa Roberts, Deputy Vice Chancellor: Research and Innovation at the University of Leeds, said: "Our researchers have spent many years building relationships with NGOs, governments and civil organisations in countries like Bangladesh, Nepal and in sub-Saharan Africa. We have learnt what these countries need to do to thrive, and have harnessed our exceptional breadth and commitment to working across traditional boundaries, to support them with solutions to some of the greatest global challenges facing humankind today."
Dealing with global challenges
Here are some examples of the 53 projects supported by awards from the Global Challenges Research Fund and the Newton Fund, demonstrating the breadth of the University's research expertise:
Lead academic: Professor Paul Cooke, Faculty of Arts, Humanities and Cultures.
Funding: £1.9 million | GCRF | Arts and Humanities Research Council.
Duration: Four years.
Countries: Cambodia, Colombia, Kosovo, Rwanda and South Africa.
In-country partners: University of Rwanda, Nelson Mandela University, University of Pristina, Documentation Center of Cambodia, University of Los Andes, British Council, UNESCO.
Objective: To evaluate and inform the operations of youth-focused charities and international non-governmental organisations working in 'post-conflict' settings, to build strong institutions that can support communities to deliver sustained social justice, peace and reconciliation.
The projects uses participatory arts – for example inter-ethnic choirs in Kosovo or community filmmaking in Cambodia –and examines what actually works in helping post-conflict societies to face their past, with the aim of informing policy nationally and internationally.
Lead academic: Dr Conor O'Reilly, Faculty of Education, Social Sciences and Law.
Funding: £405,000 | Newton Fund.
Duration: Two years, eight months.
Countries: Mexico.
In-country partners: Gobernanza Forense Ciudadana, Laboratorio de Investagicion Social – Justicia en Movimento, The Artificial Intelligence Laboratory of Tec de Monterrey, Terraza Termita.
Objective: Working with activist citizens, NGOs and human rights defenders, the programme will develop counter-kidnapping resources which do not rely on private solutions or the state. These include a counter-kidnapping handbook; a support-network for the families of kidnap victims; and a mobile-phone app developed as both a secret alerting system and a secure reporting mechanism.
The programme will create strategies for peer-to-peer security planning, to strengthen victims' independence and to improve their capacities to assist others, which will be promoted across Mexican society. It will also explore how kidnapping dynamics take on additional dimensions in the US-Mexico borderlands as they both shape, and are shaped by, border mobilities.
Lead academic: Professor Pietro Valdastri, Faculty of Engineering.
Funding: £1.3million | GCRF | Engineering and Physical Sciences Research Council.
Duration: Three years.
Countries: South Asia.
In-country partners: Tianjin University.
Objective: Working with researchers in China to develop a '£2 a go' portable device to help detect gastric cancer. The device has been designed for use in low and middle income countries because while doctors know early screening is very effective in tackling this cancer, it is expensive and difficult to carry out in rural settings and in areas which are less resourced.
Lead academic: Professor Melvin Hoare, Faculty of Maths and Physical Sciences.
Funding: £3.8million | Newton Fund | Science and Technology Facilities Council.
Duration: Seven years.
Countries: Botswana, Ghana, Kenya, Madagascar, Mauritius, Mozambique, Namibia and Zambia.
In-country partners: Botswana International University of Science and Technology, Ghana Space Science and Technology Institute, Technical University of Kenya, University of Antananarivo (IOGA), University of Mauritius, Eduardo Mondlane University, University of Namibia and University of Zambia
Objective: Develop the skills of a new – and in many cases the first – generation of radio astronomers in sub-Saharan Africa. The goal is to help prepare these countries for participation in an international effort to build the world's largest radio telescope, and to support wider economic and scientific development. By giving people the skills to work in well paid technical roles, the expectation is that knowledge and wealth trickles down, ultimately resulting in individual countries requiring less aid in future.
Global university
Professor Hai-Sui Yu, Pro-Vice-Chancellor: International, said: "Leeds is a truly global university, and we have been successful in collaborating with governments, organisations and research bodies in some of the most challenging parts of the world. We create the environment for our researchers at all levels to develop fundamental insights which drive practical solutions to help countries thrive. The figures from Research Fortnight are a pleasing independent judgement on the successful approach we have developed, and we continue to welcome new collaborations to tackle global challenges."
Read more about the overall aims of the Global Challenges Research Fund and the Newton Fund, and discover the University's global presence and research and innovation excellence.