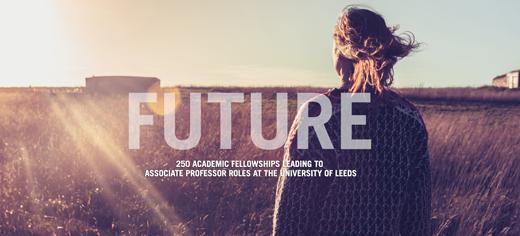 The University of Leeds is offering 250 new opportunities for academic researchers in its biggest ever recruitment drive.
A £100m investment, "250 great minds" (250greatminds.leeds.ac.uk), launched on Wednesday 1 October and will recruit 250 early career academic fellows over the next three years.
With a unique fellowship scheme, successful applicants will embark on a five year structured development programme, leading to an established position as an associate professor.
Sir Alan Langlands, University of Leeds Vice-Chancellor, said: "Leeds is making an unparalleled investment in new academic staff who will be given the opportunity to build strong, independent research portfolios and deliver innovative research-led teaching."
"This will have a positive impact on the profile of research and student education at Leeds."
The recruitment campaign has been driven by the University's ambition to develop and explore new research and educational opportunities on an interdisciplinary basis.
Specifically, the campaign aims to bring together talented academics from across core disciplines to tackle major global challenges, including high impact research in health, energy, food, water, culture, high value engineering, and cities and sustainable societies.
Deputy Vice-Chancellor, Professor John Fisher, said: "We are looking for great minds to join us in tackling some of society's biggest challenges, to help us create a new generation of postgraduate researchers in major areas of interdisciplinary research.
"We are investing in people who have a strong research vision and a commitment to high-quality student education, and we will support them to build a clear, compelling plan for their academic development.
"This is an excellent opportunity to establish an academic career at a leading Russell Group university, and play a key role in our ambitious plans for the future."
For more information, people can visit 250greatminds.leeds.ac.uk from Wednesday 1 October 2014. Watch the recruitment video here.
Further information
Sir Alan Langlands, University of Leeds Vice-Chancellor, and Professor John Fisher, Deputy Vice-Chancellor, are available for interview. Please contact Rachel Barson, University press officer, on 0113 343 2060 or email r.barson@leeds.ac.uk
Unless otherwise stated, roles are open for application until Sunday 16 November 2014. Formal selection will take place in early 2015 and it is hoped new academic fellows will be able to start at the University in time for the 2015/16 academic year.