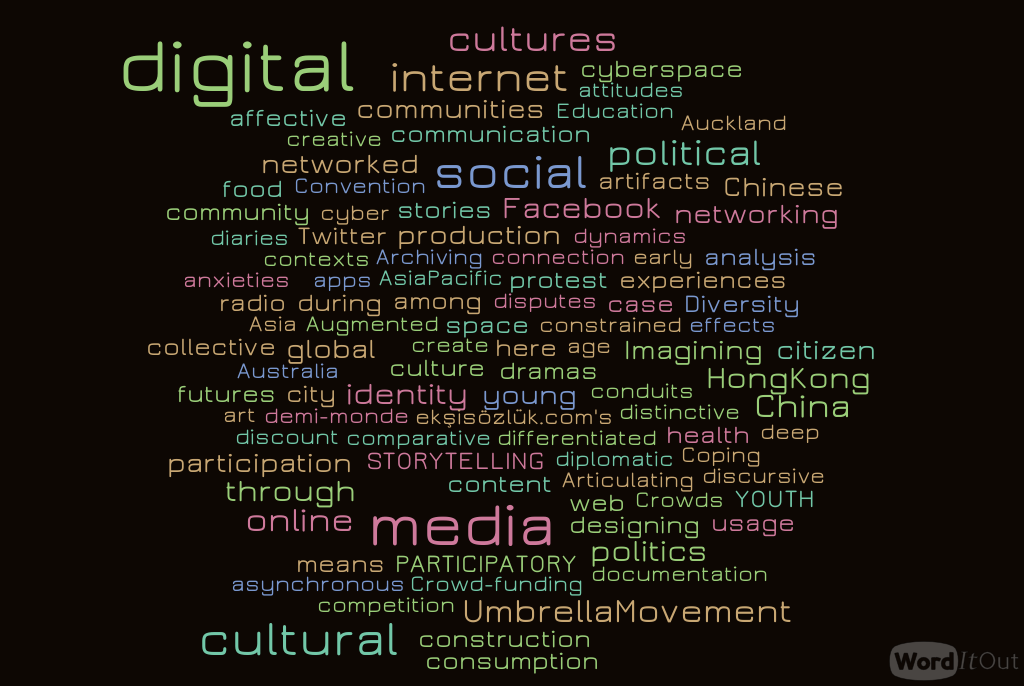 Ever since the Internet developed into a World Wide Web there has been speculation about its potential to breakdown national cultural barriers. In the early years of largely western dominance proclamations about the emancipatory nature of cyberspace were only matched by charges of cultural colonisation by consumer brands. In more recent times however this suggestion of the emergence of a homogenous online digital culture has been significantly challenged. Today at least 40% of Internet users are Chinese and many more languages and cultures are now online. We have also witnessed a resurgence of national, ethnic and identity cultures flourishing on the Internet. Facilitated by social media platforms these new media technologies have given rise to a much more complex picture of cultural diversity and multiplicity. What is clear is that the new media ecology is likely to have a significant influence upon the maintenance, threats, opportunities and emergence of cultural forms. This two-day conference will explore the emergence and development of global digital cultures through a number of themes including, but not limited to the following:
influence upon indigenous cultures
governance of the Internet and how international negotiations might influence cultural identities
social media as cultural artefacts
global branding, resistance and culture jamming
participatory cultures, new cultural politics
internet generations
population mobility and social connectivity
surveillance and public cultures
cultural development through social media
digital archives, narratives and memory.
A selection of the best papers from the conference will be published in a special issue of the international journal Information, Communication & Society.
Read tweets from the WUN Understanding Global Digital Cultures Conference 2015
View photos from the WUN Understanding Global Digital Cultures Conference 2015
Watch the WUN Conference & AGM 2015 Highlights video
Keynote speakers
| | |
| --- | --- |
| | Dame Wendy Hall DBE FREng FRS, Professor of Computer Science, The University of Southampton. |
| | Lee Rainie, Director of the Pew Research Center's Internet and American Life Project. |
| | Professor Saskia Sassen, Sociology Department, Columbia University & The London School of Economics. |
| | Professor Hu Yong, School of Journalism and Communication, Peking University. |
Conference Program
Conference Abstracts
View the conference abstracts.
Participant Biographies
View Participant Biographies here.
Conference Information Guide
View the conference information guide.
Registration
Registration is now closed.
Venue
Lecture Theatre 2 (Ground Floor)
Yasumoto International Academic Park
The Chinese University of Hong Kong
Accommodation
The official hotel of the WUN Conference & AGM 2015 is the Hyatt Regency Hong Kong Sha Tin. This hotel is ideally located adjacent to the Chinese University of Hong Kong, where the majority of meetings and events will take place.
WUN participants who book before 15 April 2015 will get a harbour-view room with breakfast included at a rate of HK$1420 per night. Download the accommodation booking form.
For more information on visiting Hong Kong, visit Discover Hong Kong.
Conference Convenors
Brian Loader, Department of Sociology, The University of York - brian.loader@york.ac.uk
Jack Qiu, School of Journalism & Communication, The Chinese University of Hong Kong - jacklqiu@gmail.com
For all conference enquiries, please contact Wilna Venter.
Sponsors
We thank Routledge Taylor and Francis Group for sponsoring the conference dinner.